Society of Scholars Cohort Archive
The Society of Scholars is an intellectual community of humanists of diverse generations, academic ranks, and departmental affiliations who contribute to and learn from one another's work. Each year, approximately eight faculty and three dissertation research fellowships support members of the Society of Scholars. Scholars in year-long residence at the University of Washington may be invited to participate as well. The group meets biweekly throughout the year to discuss their research in progress. 
Apply for the Fellowship (Faculty)
Apply for the Fellowship (Student)
2023 - 2024 Society of Scholars
2022 - 2023 Society of Scholars
2021 - 2022 Society of Scholars
2020 - 2021 Society of Scholars
2019 - 2020 Society of Scholars
2018 - 2019 Society of Scholars
2017 - 2018 Society of Scholars
2016 - 2017 Society of Scholars
2022 - 2023 Society of Scholars Fellow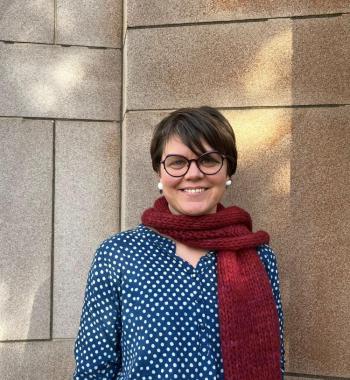 Amalie Goul Dueholm (she/her/hers)
Doctoral Candidate
Legal Imaginaries: State, Citizenship, and Violence in Contemporary Hindi Cinema
This dissertation investigates the relationship between contemporary Hindi cinema and the law. By drawing on an archive of mainstream Hindi films released after 2010 that engage with topical social issues such as new laws, same-sex desire, and gender violence, this project examines how contemporary Hindi cinema can become a space where law happens by contributing to our understanding of law as universal and neutral, negotiating the meaning of citizenship and rights, disseminating information about the law to audiences, and contributing to cultural imaginaries which underpin legal interpretations.