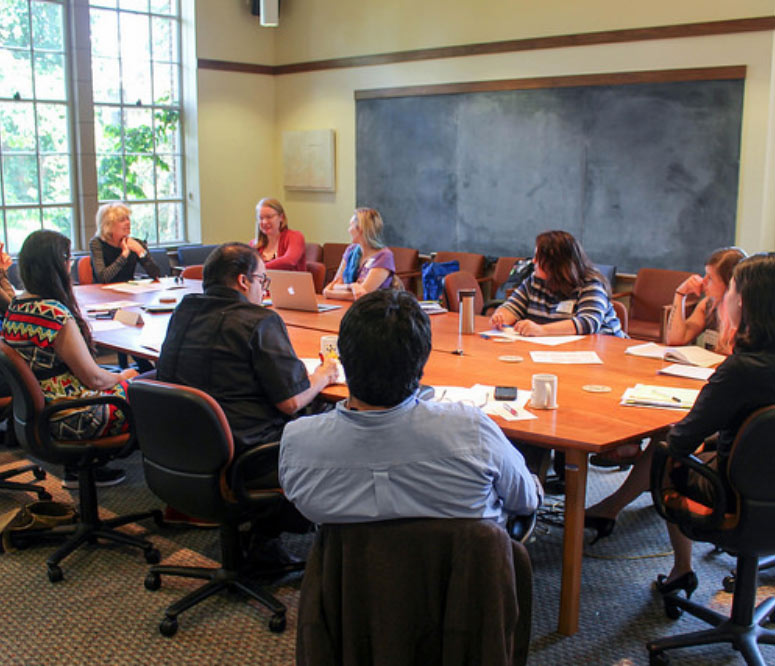 The Simpson Center for the Humanities seeks to advance vital research and spirited intellectual exchange on questions of broad and pressing concern through and across the academic fields of the humanities and the humanistic social sciences. As a research unit within the Humanities Division of the College of Arts & Sciences at the University of Washington, the Simpson Center supports scholarship that draws on the core areas of humanistic inquiry and beyond. Both basic and socially-engaged research are central to its mission which is expansive and interlocking:
to support crossdisciplinary research

to underwrite initiatives at the leading edge of change

to offer innovative courses at the graduate level, and

to foster work that is public facing, with a priority being the integration of research, teaching, and public scholarship.
Key to the Simpson Center's vision is the development of a culture of collaboration. Multi-year, intellectually ambitious, and socially compelling collaborative projects include "Seattle Civil Rights and Labor History," "Biological Futures in a Globalized World," "New Geographies of Feminist Art: China, Asia, and the World," "Women Who Rock," "Transformative Education Behind Bars," "Capitalism and Comparative Racialization," and "Humanitarianisms." All of these projects integrate research and teaching, and possess a public dimension.
The Simpson Center is currently hiring. Read below for details and how to apply.
To receive a notification when we open for hire, we recommend you subscribe to our newsletter.
POSITION PURPOSE
One of the largest and most comprehensive humanities centers in the United States, the Walter Chapin Simpson Center for the Humanities is dedicated to supporting cross disciplinary research and inquiry among University of Washington faculty and graduate students and underwriting major initiatives in the humanities in the service of the public good. The Simpson Center acts as a grantmaking unit within the university, generates and supports projects funded by outside grants and gifts, and administers budgets totaling in excess of $1.2M, with endowments of over $16M.

Largely project and event based, the Simpson Center is well known nationally for its vibrant visiting speaker series, conferences, colloquia, and workshops on subjects central to the humanities, including the study of literature, film, language, culture, philosophy, and history. For more information, visit simpsoncenter.org. The Simpson Center seeks a highly organized, energetic, and responsible individual committed to the mission of higher education to join their dynamic and closely knit team.

If you are uncertain that you meet the minimum or preferred qualifications for this position, and/or if you are part of a historically underrepresented group, we encourage you to still apply. The priority application deadline is September 1, 2023, but applications are considered on a rolling basis.

DUTIES AND RESPONSIBILITIES
The Public Information Specialist assures the operational integrity of the Center in the following ways:

Simpson Center Website 30%
Create, develop, manage, and maintain content for the Simpson Center website, including web pages for Simpson Center sponsored projects.
Solicit, edit, and manage content from faculty, staff, and grad students for the website.
Ensure that electronic content is archived and accessible.
Track web usage/web analytics (report quarterly).
Hire web developers and act as project manager on web development projects.
Ensure that the hardware and software needed to support the Center's website are operating accurately.

Digital and Print Communications 60%
Create and implement the Center's communication plan, including development and production of digital communications, print publicity, and other promotional materials supporting many programs and events each year, including courses, lectures, meetings, and conferences
Innovate, develop, edit, and disseminate new content for multiple media platforms, including essay, podcast, and video content across digital channels and tools.
Create, edit, and dissemination mass emails to academic and community audiences locally, nationally, and internationally.
Oversee the Center's social media activity on platforms such as Instagram, Twitter, LinkedIn, and YouTube.
Coordinate and oversee production of materials with graphic designers, presses, web developers, photographers, and videographers; set and manage production schedules and publicity budgets.
Collect and create narratives and other types of documentation of Simpson Center activities for reports, online feature stories, and media pitches.
Develop media and public relations contacts, both regionally (UW, KUOW, KEXP, the Stranger, Seattle Times, Seattle Weekly) and nationally (Consortium of Humanities Centers & Institutes, Chronicle of Higher Education, National Humanities Alliance).
Oversee the management of the Simpson Center's archives (both digital and print).

Personnel, Operations, and Miscellaneous Administrative Support 10%
Delegate tasks to hourly student assistants.
Work closely with Center's Program & Event Manager on institutional- and project-specific event publicity.
Work closely with the Center's Administrative Assistant on the management of the web calendar; submissions are reviewed, edited, and added daily.
Represent the Simpson Center on campus committees, roundtables, and councils (UW marketing roundtable, College of Arts & Sciences Drupal users' group)
Serve as Simpson Center liaison to College of Arts & Science marketing staff.
Complete other tasks and projects as assigned

MINIMUM REQUIREMENTS
Bachelor's Degree.
3 years of progressively responsible editorial, publications, communications, or development experience.
Equivalent education/experience will substitute for all minimum qualifications except when there are legal requirements, such as a license/certification/registration.

ADDITIONAL REQUIREMENTS
Experience with Microsoft Office and graphic design software, such as Adobe InDesign.
Experience managing website content and design.
Experience with drafting and distributing email newsletters.

DESIRED QUALIFICATIONS
Graduate degree.
Proficiency in web design, editing, and coding software.
Demonstrated ability to learn and deploy new web-based technologies.
Knowledge in the humanities, broadly speaking.
Familiarity with the university, and/or with other education and cultural organizations.
Familiarity with and ability to implement accessibility best practices across digital and print materials.

Application Process: The application process may include completion of a variety of online assessments to obtain additional information that will be used in the evaluation process. These assessments may include Work Authorization, Cover Letter and/or others. Any assessments that you need to complete will appear on your screen as soon as you select "Apply to this position". Once you begin an assessment, it must be completed at that time; if you do not complete the assessment, you will be prompted to do so the next time you access your "My Jobs" page. If you select to take it later, it will appear on your "My Jobs" page to take when you are ready. Please note that your application will not be reviewed, and you will not be considered for this position until all required assessments have been completed.
Committed to attracting and retaining a diverse staff, the University of Washington will honor your experiences, perspectives and unique identity. Together, our community strives to create and maintain working and learning environments that are inclusive, equitable and welcoming.
The University of Washington is an affirmative action and equal opportunity employer. All qualified applicants will receive consideration for employment without regard to race, color, religion, sex, sexual orientation, gender identity, gender expression, national origin, age, protected veteran or disabled status, or genetic information.
To request disability accommodation in the application process, contact the Disability Services Office at 206-543-6450 or dso@uw.edu.
Applicants considered for this position will be required to disclose if they are the subject of any substantiated findings or current investigations related to sexual misconduct at their current employment and past employment. Disclosure is required under Washington state law.