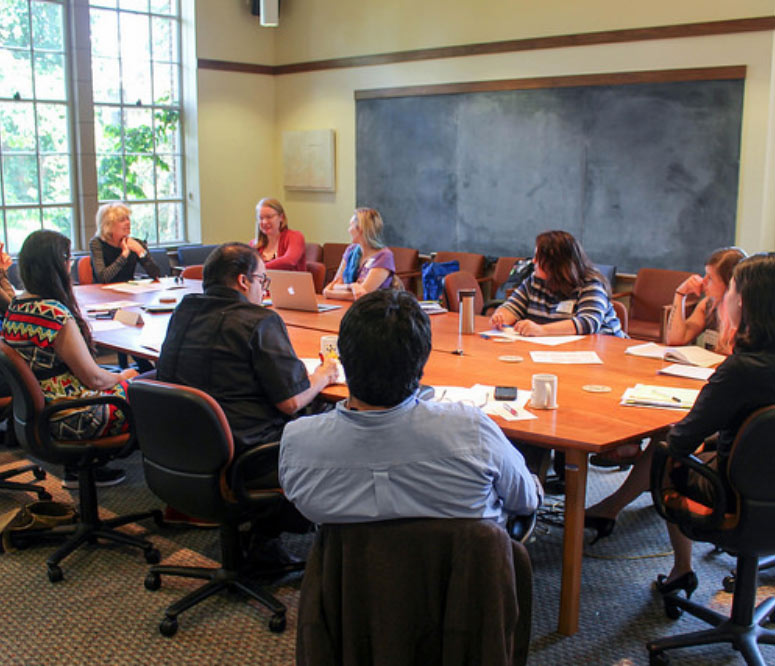 The Simpson Center for the Humanities seeks to advance vital research and spirited intellectual exchange on questions of broad and pressing concern through and across the academic fields of the humanities and the humanistic social sciences. As a research unit within the Humanities Division of the College of Arts & Sciences at the University of Washington, the Simpson Center supports scholarship that draws on the core areas of humanistic inquiry and beyond. Both basic and socially-engaged research are central to its mission which is expansive and interlocking:
to support crossdisciplinary research

to underwrite initiatives at the leading edge of change

to offer innovative courses at the graduate level, and

to foster work that is public facing, with a priority being the integration of research, teaching, and public scholarship.
Key to the Simpson Center's vision is the development of a culture of collaboration. Multi-year, intellectually ambitious, and socially compelling collaborative projects include "Seattle Civil Rights and Labor History," "Biological Futures in a Globalized World," "New Geographies of Feminist Art: China, Asia, and the World," "Women Who Rock," "Transformative Education Behind Bars," "Capitalism and Comparative Racialization," and "Humanitarianisms." All of these projects integrate research and teaching, and possess a public dimension.
About
The Walter Chapin Simpson Center for the Humanities supports a wide range of research across the humanities and humanistic social sciences, with a focus on leading-edge collaborative projects with the potential to reach beyond the academy. One of the most comprehensive humanities centers in the United States, it is well-known for its scholarly fellowship programs and major initiatives in digital humanities, public scholarship, and reimagining the humanities PhD. Simpson Center programs are grounded in collaboration, crossdisciplinarity, and an ethos of experimentation. 
The Simpson Center offers a rich spectrum of opportunities for intellectual community and plays a shaping and supportive role in the work of University of Washington faculty and graduate students. It provides funding and administrative support for scholarly fellowships, research clusters, graduate study groups, conferences, symposia, and microseminars, allowing faculty and graduate students to exchange ideas and develop projects with colleagues, visiting scholars, and members of other higher educational and cultural institutions. Special programs for undergraduates are also underwritten by the center. 
The Simpson Center supports faculty-led projects on contemporary social issues and deep historical questions, and serves as an enlivening place for conversations across disciplines, publics, and communities. Funding is awarded to faculty to undertake projects such as organizing conferences and leading research clusters twice annually during competitive funding rounds, with applications reviewed by the Simpson Center executive board, a body led by the director of the Simpson Center and consisting of the dean of humanities, faculty from the divisions of the humanities, social sciences, and arts of the College of Arts & Sciences on the UW Seattle campus as well as from affiliated units at UW Bothell and Tacoma. The board also reviews nominations for the center's Katz Distinguished Lectures in the Humanities, advises on policy, and actively participates in the development of new programs and initiatives.
The Simpson Center regularly welcomes short-term visiting scholars and often hosts postdoctoral fellows with portable fellowship funding, providing campus space, resources, and intellectual community for established and emerging scholarly voices in the humanities. The center contributes to the activities of the national and international organizations with which it is affiliated, including the Consortium of Humanities Centers and Institutes (CHCI), the Western Humanities Alliance, the National Humanities Alliance, and Imagining America: Artists and Scholars in Public Life. In doing so, it facilitates the building of scholarly networks nationally and internationally. 
The Simpson Center has received grants from national organizations, including the National Endowment for the Humanities, the Ford Foundation, The Rockefeller Foundation, the American Council of Learned Societies, and The Andrew W. Mellon Foundation, as well as from Seattle institutions, among them, the Paul G. Allen Family Foundation and the Fred Hutchinson Cancer Research Center. The Simpson Center is also sustained by support from donors. Major gifts from the family foundation of Barclay and Sharon Simpson and from Donald E. Petersen and Frederick Danz, among others, have underwritten forward-looking, interdisciplinary curricular and fellowship programs that would not have been otherwise possible. 
Led by a faculty director appointed by the dean of the College of Arts & Sciences, the Simpson Center has five full-time staff members.
The Simpson Center is currently hiring an Administrative Specialist and a Writer in Residence.
Although open until filled, priority application date is July 28, 2022.
Read the full job description and apply online through the UW Hires job application portal (job req#: 209309). Below is a summary of key aspects for the position. It is not the full job description.
Summary:
The Simpson Center seeks a highly organized, energetic, and responsible individual committed to the mission of higher education to join their dynamic and closely knit team. The Administrative Specialist assures the operational integrity of the Center in the following ways:
Acts as the Center's chief financial officer, establishing, maintaining, and monitoring fiscal processes of authorization, reconciliation, and reporting for all Simpson Center budgets in compliance with mandates at all levels, and provides budgetary analysis and recommendations.
Manages hiring and appointments for all permanent staff as well as the Center's project-based staff.
Oversees Simpson Center facilities, consisting of meeting spaces, event spaces, and offices supporting scholarly residencies, conferences, and working groups.
Oversees pre-award development and post-award administration for all external grants and subcontracts.

Minimum Requirements:
Bachelor's degree and 3+ years of increasing responsibility in higher education and / or a non-profit institution or governmental agency.
Demonstrated experience with accounting, book keeping, and budgeting.
PC-based computer skills, specifically Microsoft Windows and Office software, emphasizing advanced Excel skills including data sorting, importing data, using complex formulas, and creating pivot tables and linked worksheets.
Strong written, digital, and oral communication skills, including tact, diplomacy, and discretion.
Desired:
Educational background in and/or interest in working for a humanities and/or non-profit organization.
Application Process:
The application process for UW positions may include completion of a variety of online assessments to obtain additional information that will be used in the evaluation process.  These assessments may include Work Authorization, Cover Letter and/or others.  Any assessments that you need to complete will appear on your screen as soon as you select "Apply to this position". Once you begin an assessment, it must be completed at that time; if you do not complete the assessment you will be prompted to do so the next time you access your "My Jobs" page. If you select to take it later, it will appear on your "My Jobs" page to take when you are ready. Please note that your application will not be reviewed, and you will not be considered for this position until all required assessments have been completed.
Applications must be submitted online through UW Hires.

2022-2023 Writer in Residence:
Although open until filled, priority application date is September 9, 2022. Applications only accepted on Handshake by searching for Job #6797715.
Summary:
The Walter Chapin Simpson Center for the Humanities invites applications for a 2022-2023 Writer in Residence. This is a pilot program in its second year for students currently enrolled at The University of Washington (Seattle, Bothell, and Tacoma campuses).
The Writer in Residence will be appointed for the academic year of 2022-2023. The primary responsibility of the Writer in Residence is to write 2-3 short essays or interviews (500-1500 words) each quarter on the Funded Projects and their related research topics at the Simpson Center for the Humanities. 
Each article will be published on Medium and our website, simpsoncenter.org, with wide circulation through our newsletter (upwards of 5,000 subscribers) and social media channels. We recommend that applicants review past and present projects at simpsoncenter.org before submitting application materials.
This is a wonderful opportunity for writers interested in interdisciplinary and essay-based public scholarship designed for academic and non-academic audiences alike. It will provide a valuable opportunity to work with scholars and administrators from multiple disciplines throughout the process of researching, pitching, drafting, and publishing public-facing articles. It will also provide a paid opportunity to add high-profile publication and experience to a CV and/or resume.
Past articles published on the Simpson Center site and Medium have received upwards of 1,500 reads. By hosting a Writer in Residence, we look forward to using this platform to support students interested in publishing interdisciplinary scholarship for multiple publics. 
Some examples of the type of writing this position models includes:
This position can be fulfilled in a remote or in-person capacity. For in-person, we will provide space in the Simpson Center Communications 202 office suites. We especially welcome applications from students who are part of historically underrepresented communities and groups, including but not limited to individuals who identify as Black, Indigenous, Latinx, Chicanx, Asian, and Diasporic (BIPOC), previously incarcerated, dis/abled, LGBTQIA+, and at the intersections therein.
Responsibilities:
Research and acquire a nuanced understanding of research projects undertaken with Simpson Center funding.
Spend 2-3 hours per week researching, pitching, writing, and revising 2-3 articles or interviews in each quarter.
When relevant, reach out to project leads to perform brief interviews or obtain quotes for the article.
Create summaries of the article suitable for three platforms: website listings, Instagram captions, and tweets.
Secure images and alt-text with necessary permissions to accompany the article and its promotional materials, including images and alt-text for sharing the article on websites, Twitter, and Instagram.
Learn and apply house and brand Simpson Center style in all finalized articles.

Required Qualifications:
Enrollment as a full-time student for the full Academic Year of 2022-2023.
Comfort with creating and editing documents in both Microsoft Word and Google Documents.
Excellent proof-reading and copy-editing skills.
Access to stable internet for weekly or bi-weekly Zoom meetings.
Consistent record of setting and meeting firm writing deadlines.
Willingness to work in collaboration with Simpson Center staff on a multi-draft essay writing process.
Application Deadline and Review Timeline:

Applications are due by 5pm, Friday, September 9, 2022.
Interview offers will be sent out by 5pm, Monday, September 12, 2022.
A decision will be emailed to applicants within 5 business days of the final interview.

Application Instructions:

Please submit the following materials no later than by 5pm, Friday, September 9, 2022 as a single, bundled** PDF document.
PDF documents should be in the same order as the numbered list below.
Please name the files using: LastName_FirstName_21 Writer in Residence.pdf.

Required Materials:
A Cover Letter that includes but is not limited to*:  
Your current Department affiliation and academic level, 
A summary of your current research area/major, 
A description of how this opportunity will support your longer-term research and/or career plans, 
An overview of any past experience with publishing writing in essay form or other genres,
And a description of any related public-facing publication experiences if applicable. 
CV
1 University of Washington reference who can speak to your ability to meet writing deadlines (include both email and phone number)
A writing sample between 1000-2000 words in length
Unofficial copy of UW Transcripts
*If you reference work that is publicly available online, such as websites, videos, podcasts, social media posts, public-facing articles, include hyperlinks where possible.
Applications that do not follow the above guidelines may not receive a full review.

**If you do not know how to bundle different documents into a single .pdf:
PC Users: refer to PC Magazine's instructions on bundling documents.
Apple Users: refer to Apple Support instructions on bundling documents.
Compensation:

This position has a rate of $20-$27/hour. Rate subject to change depending on education and experience. 
If you have any questions about this position or how to apply, you are welcome to reach out to the Simpson Center Communications Manager, C. R. Grimmer at cgrimmer@uw.edu.
How to Apply:
Apply by creating an account and applicant profile on Handshake and searching for Job #6797715. If you do not already have a Handshake account, we recommend setting this up several days in advance of the deadline.
To receive a notification when we open for hire, we recommend you subscribe to our newsletter.