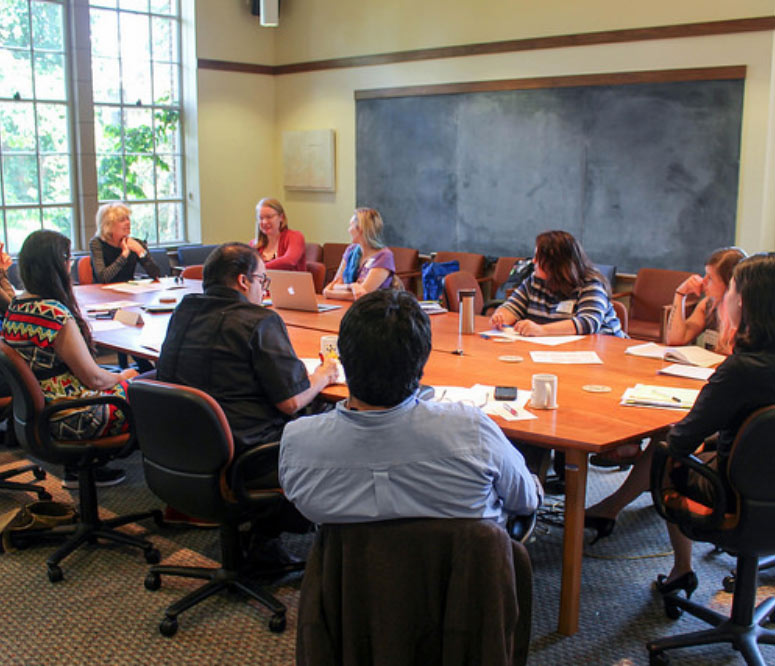 The Simpson Center for the Humanities seeks to advance vital research and spirited intellectual exchange on questions of broad and pressing concern through and across the academic fields of the humanities and the humanistic social sciences. As a research unit within the Humanities Division of the College of Arts & Sciences at the University of Washington, the Simpson Center supports scholarship that draws on the core areas of humanistic inquiry and beyond. Both basic and socially-engaged research are central to its mission which is expansive and interlocking:
to support crossdisciplinary research

to underwrite initiatives at the leading edge of change

to offer innovative courses at the graduate level, and

to foster work that is public facing, with a priority being the integration of research, teaching, and public scholarship.
Key to the Simpson Center's vision is the development of a culture of collaboration. Multi-year, intellectually ambitious, and socially compelling collaborative projects include "Seattle Civil Rights and Labor History," "Biological Futures in a Globalized World," "New Geographies of Feminist Art: China, Asia, and the World," "Women Who Rock," "Transformative Education Behind Bars," "Capitalism and Comparative Racialization," and "Humanitarianisms." All of these projects integrate research and teaching, and possess a public dimension.
The Simpson Center has been supported from its inception by generous donors as well as sustaining funds from the University of Washington and a series of major external grants. We appreciate all of the forms of support, large and small, that make our work possible, and would like to especially thank our major donors, whose gifts have established endowments and initiated and sustained long-term programs.
Each year, the Simpson Center receives generous gifts that provide support for a wide range of activities on the UW campus and in the greater Seattle community. These contributions enable the Simpson Center to foster the growth of existing programs and to provide support for new initiatives in the development of cutting edge research, innovative teaching, and campus-community engagement. We welcome unrestricted gifts as well as support for specific programs, such as the Digital Humanities Summer Fellowship program and graduate student support.
Use the form below to learn more about these programs and make a direct contribution. 
Donations may also be sent by mail to the following address:
Simpson Center for the Humanities
University of Washington
206 Communications
Box 353710
Seattle, WA 98195-3710
Contributions to the Simpson Center are tax-deductible.