Society of Scholars Cohort Archive
The Society of Scholars is an intellectual community of humanists of diverse generations, academic ranks, and departmental affiliations who contribute to and learn from one another's work. Each year, approximately eight faculty and three dissertation research fellowships support members of the Society of Scholars. Scholars in year-long residence at the University of Washington may be invited to participate as well. The group meets biweekly throughout the year to discuss their research in progress. 
Apply for the Fellowship (Faculty)
Apply for the Fellowship (Student)
2023 - 2024 Society of Scholars
2022 - 2023 Society of Scholars
2021 - 2022 Society of Scholars
2020 - 2021 Society of Scholars
2019 - 2020 Society of Scholars
2018 - 2019 Society of Scholars
2017 - 2018 Society of Scholars
2016 - 2017 Society of Scholars
2023 - 2024 Society of Scholars Fellow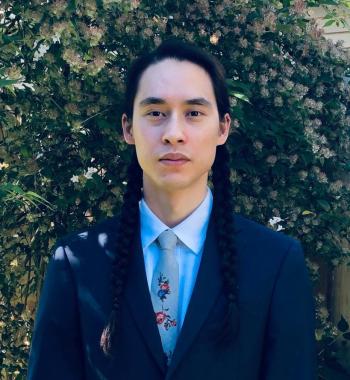 Andreas P. Bassett (he/him/his)
Doctoral Candidate
The Purchase of Playbooks: Shopping for Drama and Book Buying in Early Modern England
This dissertation investigates the evolving practice of book buying in early English print culture as it informed the production and reception of Renaissance drama in Shakespeare's time. It argues that the seemingly quotidian interactions that took place at the bookshop not only shaped the interpretations readers derived from the dramatic literature they purchased on-site, but repeated and compounded over time, these book buying encounters also facilitated the formation of deeper cultural meanings, namely an early English dramatic canon.