Society of Scholars Cohort Archive
The Society of Scholars is an intellectual community of humanists of diverse generations, academic ranks, and departmental affiliations who contribute to and learn from one another's work. Each year, approximately eight faculty and three dissertation research fellowships support members of the Society of Scholars. Scholars in year-long residence at the University of Washington may be invited to participate as well. The group meets biweekly throughout the year to discuss their research in progress. 
Apply for the Fellowship (Faculty)
Apply for the Fellowship (Student)
2023 - 2024 Society of Scholars
2022 - 2023 Society of Scholars
2021 - 2022 Society of Scholars
2020 - 2021 Society of Scholars
2019 - 2020 Society of Scholars
2018 - 2019 Society of Scholars
2017 - 2018 Society of Scholars
2016 - 2017 Society of Scholars
2022 - 2023 Society of Scholars Fellow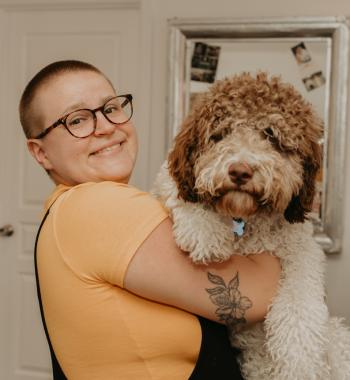 Diana Molkova (she/her/hers)
Doctoral Candidate
Violence and Representation in Roman Culture
This dissertation focuses on sexually violent scenes in material culture and literature to which Roman women of all statuses were exposed. The three case studies examined are images of sexually charged physical violence against women in carved gems, voyeuristic depictions of couples with dwarfism having sex on Roman lamps, and other women's reactions to rape in Ovid's stories of Callisto and Philomela. This work seeks to further nuance our understanding of ancient sexual violence by investigating the messages these narratives carried and theorizing Roman women's responses to them.