Society of Scholars Cohort Archive
The Society of Scholars is an intellectual community of humanists of diverse generations, academic ranks, and departmental affiliations who contribute to and learn from one another's work. Each year, approximately eight faculty and three dissertation research fellowships support members of the Society of Scholars. Scholars in year-long residence at the University of Washington may be invited to participate as well. The group meets biweekly throughout the year to discuss their research in progress. 
Apply for the Fellowship (Faculty)
Apply for the Fellowship (Student)
2023 - 2024 Society of Scholars
2022 - 2023 Society of Scholars
2021 - 2022 Society of Scholars
2020 - 2021 Society of Scholars
2019 - 2020 Society of Scholars
2018 - 2019 Society of Scholars
2017 - 2018 Society of Scholars
2016 - 2017 Society of Scholars
2023 - 2024 Society of Scholars Fellow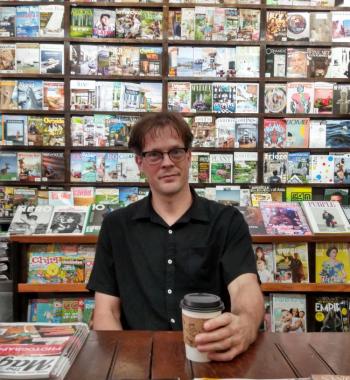 Aaron Carpenter (he/him/his)
Doctoral Candidate
Rajžaliteratur – A Journey Through the Shifting Words of German-Language Traumatic Narratives of South Slavic Writers
This project examines how writers from former Yugoslavia who write in German use and repurpose the language of the majority to tell their minority communities' history. These authors make use of counter-historical narratives to challenge and undermine the dominant historical narrative in their respective countries. Many of the authors describe experiences where their presence affects the shape of the outsider in society, into which they cannot integrate. The authors invite the reader to engage with another truth about historical events and to recognize the experiences of a marginalized group.