Society of Scholars Cohort Archive
The Society of Scholars is an intellectual community of humanists of diverse generations, academic ranks, and departmental affiliations who contribute to and learn from one another's work. Each year, approximately eight faculty and three dissertation research fellowships support members of the Society of Scholars. Scholars in year-long residence at the University of Washington may be invited to participate as well. The group meets biweekly throughout the year to discuss their research in progress. 
Apply for the Fellowship (Faculty)
Apply for the Fellowship (Student)
2023 - 2024 Society of Scholars
2022 - 2023 Society of Scholars
2021 - 2022 Society of Scholars
2020 - 2021 Society of Scholars
2019 - 2020 Society of Scholars
2018 - 2019 Society of Scholars
2017 - 2018 Society of Scholars
2016 - 2017 Society of Scholars
2018 - 2019 Society of Scholars Fellow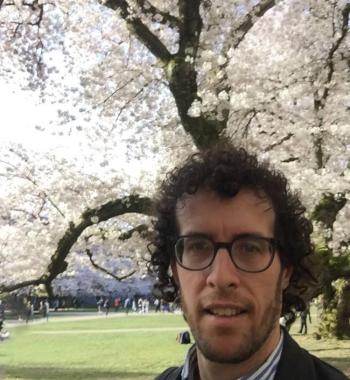 Jason Groves (he/him/his)
Associate Professor
Mineral Imaginaries: German Literature and the Geologic Unconscious
Mineral Imaginaries examines human-mineral encounters in nineteenth-century German-language literature as an important predecessor of the widespread geologic turn in contemporary culture and thought. These writers confronted the challenge of imagining and accounting for a surprisingly volatile planet that bore little resemblance to the images produced by their predecessors, and they did so by attending to the unsettledness of the lithosphere—and not only in terms of tectonic activity. The wanderers, wayfarers, and itinerants that populate the literature of this period are often of a lithic nature, and their wanderings index a kind of planetary turbulence that anticipates the earth-magnitude perturbations designated by the Anthropocene.