Society of Scholars Cohort Archive
The Society of Scholars is an intellectual community of humanists of diverse generations, academic ranks, and departmental affiliations who contribute to and learn from one another's work. Each year, approximately eight faculty and three dissertation research fellowships support members of the Society of Scholars. Scholars in year-long residence at the University of Washington may be invited to participate as well. The group meets biweekly throughout the year to discuss their research in progress. 
Apply for the Fellowship (Faculty)
Apply for the Fellowship (Student)
2023 - 2024 Society of Scholars
2022 - 2023 Society of Scholars
2021 - 2022 Society of Scholars
2020 - 2021 Society of Scholars
2019 - 2020 Society of Scholars
2018 - 2019 Society of Scholars
2017 - 2018 Society of Scholars
2016 - 2017 Society of Scholars
2021 - 2022 Society of Scholars Fellow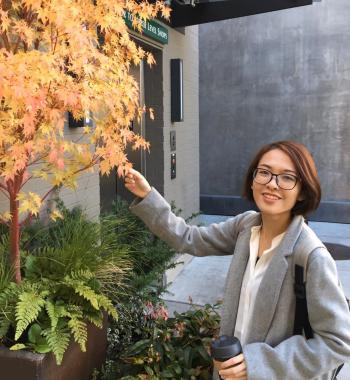 Xin Peng (she/her/hers)
Doctoral Candidate
The Yellowface of Interwar American Cinema: Technology, Aesthetics, and Transnational Media Practice
My dissertation argues for the centrality of racial performance in American cinema and popular culture between the two world wars. It chronicles the Orientalism intrinsic to our history of media technologies and cinematic aesthetics in an era when yellowface performance was prevalent and conspicuous, an Orientalist Art Deco aesthetic reached its peak, and the U.S. consolidated its "informal empire" in the Far East.