Society of Scholars Cohort Archive
The Society of Scholars is an intellectual community of humanists of diverse generations, academic ranks, and departmental affiliations who contribute to and learn from one another's work. Each year, approximately eight faculty and three dissertation research fellowships support members of the Society of Scholars. Scholars in year-long residence at the University of Washington may be invited to participate as well. The group meets biweekly throughout the year to discuss their research in progress. 
Apply for the Fellowship (Faculty)
Apply for the Fellowship (Student)
2023 - 2024 Society of Scholars
2022 - 2023 Society of Scholars
2021 - 2022 Society of Scholars
2020 - 2021 Society of Scholars
2019 - 2020 Society of Scholars
2018 - 2019 Society of Scholars
2017 - 2018 Society of Scholars
2016 - 2017 Society of Scholars
2021 - 2022 Society of Scholars Fellow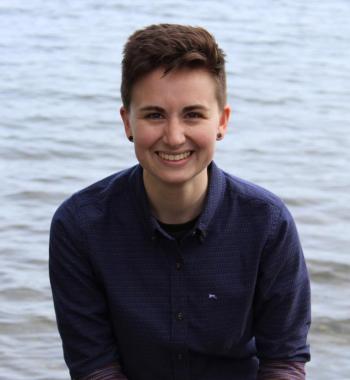 Sarah Brucia Breitenfeld (they/them/theirs)
Doctoral Candidate
'Someone Get a Whip!' Enslaved Women and Violence in Athenian Oratory, Comedy and Curses
This dissertation examines violence against enslaved women in Classical Athens. Because work on Greco-Roman slavery prioritizes enslaved men, and work on gender issues examines citizen women, enslaved women continue to be omitted from scholarly analysis. I focus on the people at the intersection of these identities, using court cases, comedies and curse tablets to investigate the abuse that enslaved women suffered at the hands of their citizen male captors. I argue that enslaved women experienced significant violence in their daily interactions and that studies which do not highlight this reality risk further silencing their histories.