Society of Scholars Cohort Archive
The Society of Scholars is an intellectual community of humanists of diverse generations, academic ranks, and departmental affiliations who contribute to and learn from one another's work. Each year, approximately eight faculty and three dissertation research fellowships support members of the Society of Scholars. Scholars in year-long residence at the University of Washington may be invited to participate as well. The group meets biweekly throughout the year to discuss their research in progress. 
Apply for the Fellowship (Faculty)
Apply for the Fellowship (Student)
2023 - 2024 Society of Scholars
2022 - 2023 Society of Scholars
2021 - 2022 Society of Scholars
2020 - 2021 Society of Scholars
2019 - 2020 Society of Scholars
2018 - 2019 Society of Scholars
2017 - 2018 Society of Scholars
2016 - 2017 Society of Scholars
2021 - 2022 Society of Scholars Fellow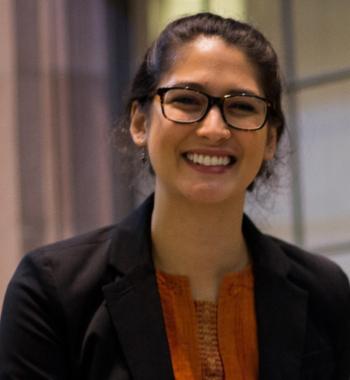 Katia Chaterji (she/her/hers)
Doctoral Candidate
Katia's dissertation explores the relationship between Islam and the performing arts in the making of regional Islamic histories in maritime Southeast Asia. Approaching performance as a meaningful site of Islamic cultural knowledge production and transmission, she engages with performing arts traditions associated with dakwah (Islamic proselytization) in Indonesia's northwestern island of Sumatra. Her project discusses issues of permissibility of art within Islamic practice, gendered stewardship of intangible heritage, and individual agency in the formation of Malay Islamic cultural identity and understandings of Islamic history in Sumatra.