Reimagining the PhD Scholars Archive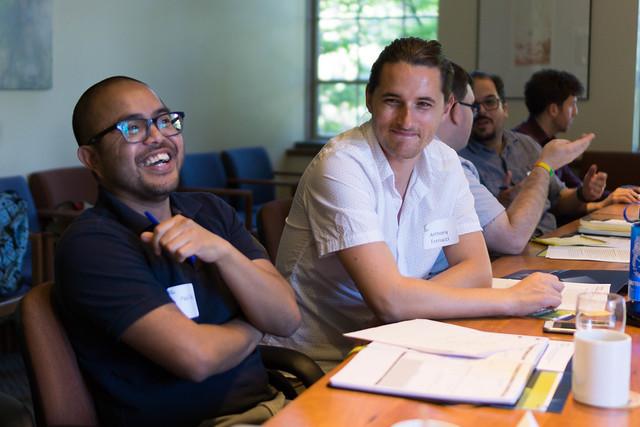 In July 2015, the Simpson Center launched Reimagining the Humanities PhD and Reaching New Publics with the generous support of The Andrew W. Mellon Foundation. The conviction animating this initiative was that doctoral education, especially at a public university, must be guided by a capacious vision of its fundamental purpose: to contribute to the public good. From 2015-2021, the program prepared UW doctoral students in the humanities for this task by meaningfully connecting them to the diverse, access-oriented institutions of higher education in the Seattle District community colleges, and by supporting the development of both doctoral students' public projects and publicly engaged graduate seminars taught by UW faculty in the humanities. Find out more about our programming below.
2021 - 2022 Reimagining the PhD Scholars
2020 - 2021 Reimagining the PhD Scholars
2019 - 2020 Reimagining the PhD Scholars
2018 - 2019 Reimagining the PhD Scholars
2017 - 2018 Reimagining the PhD Scholars
2016 - 2017 Reimagining the PhD Scholars
2015 - 2016 Reimagining the PhD Scholars
2020 - 2021 Reimagining the Humanities PhD Scholar
Liora Halperin (she/her/hers)
Associate Professor
Writing Histories of the Israeli Diaspora in the Puget Sound
Liora Halperin's seminar (developed in partnership with Arbella Bet-Shlimon) will study local Jewish Israelis, a community disproportionately represented in the high-tech and engineering fields and tied by virtue of their origins to local debates about Israel/Palestine. Traditional Jewish notions of homeland and diaspora would suggest that Jews, once they leave Israel, simply become diaspora Jews, but in fact Israelis constitute a distinct community whose interests and needs are often at odds with more established American Jewish communities. Students will explore the complications of Israeli identity through historical scholarship, academic analysis of sources from the Washington State Jewish Historical Archives, and interviews with Israelis involved in campus and community groups, some of which explicitly take (a range of) positions on Israel/Palestine politics and some of which adopt an "apolitical" or cultural approach to Israeli identity. This seminar provides a special opportunity to engage a diverse range of local Israelis and confront the challenges of narrating the histories of a community tied to and implicated in--but thousands of miles away from--a particularly contested country.