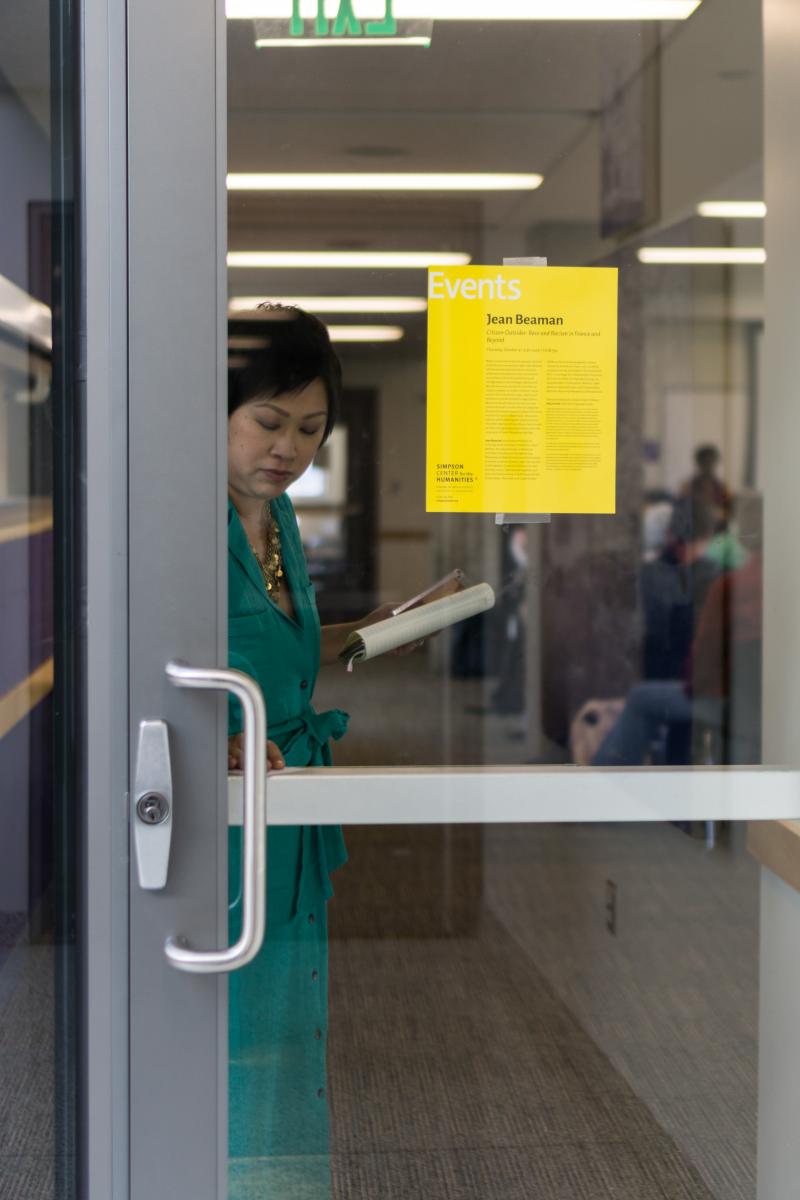 The Simpson Center has long been committed to supporting visiting speakers in the broad fields of digital humanities, data science studies, and digital culture. Past speakers include Alan Liu (University of California, Santa Barbara), Tara McPherson (University of Southern California), Jentery Sayers (University of Victoria), Johanna Drucker (University of California, Los Angeles), Julia Flanders and Syd Bauman (Northeastern University), Matthew Kirschenbaum (University of Maryland), Anne Balsamo (University of Texas at Dallas), and Jeffrey Schnapp (Harvard University).  Recent conferences sponsored by the Simpson Center range from a May 2015 working conference proposed by UW faculty member Marshall Brown, then editor of Modern Language Quarterly, on Scale and Value: New Approaches to Literary History which resulted in a special issue of the journal, to a two-day October 2018 conference organized by UW faculty members Adrienne Russell (Communication) and Matthew Powers (Communication) on The Shifting Landscape of Public Communication, resulting in their edited collection Rethinking Media Research for Changing Societies, published by Cambridge University Press in 2020.
Featured Digital Humanities Speaker:
Michelle Caswell
Lecture:
"Urgent Archives: Catalyzing Corollary Records"
Date & Location:
Thursday, November 17, 2022 | 4:30-6:00pm
CMU 120
Lecture Summary:
Grounded in critical archival studies, this talk will look toward the radical politics of independent, minoritized identity-based community archives to envision new liberatory possibilities for memory work. Based on participant observation and interviews with users at community archives sites, the talk will explore how communities activate digital collections to build solidarities across and within communities, trouble linear progress narratives, and disrupt cycles of oppression. Caswell will explore the temporal, representational, and material aspects of liberatory memory work, ultimately arguing that archival disruptions in time and space should be neither about the past nor the future, but about the liberatory affects and effects of memory work in the present.
About Michelle Caswell:
Michelle Caswell (Professor of Archival Studies in the Department of Information Studies at the University of California Los Angeles) directs a team of students at UCLA's Community Archives Lab (https://communityarchiveslab.ucla.edu/), which explores the ways that independent, identity-based memory organizations document, shape, and provide access to the histories of minoritized communities, with a particular emphasis on understanding their affective, political, and artistic impact. In 2008, together with Samip Mallick, Caswell co-founded the South Asian American Digital Archive (http://www.saada.org), an online repository that documents and provides access to the stories of South Asian Americans. She is the author of the books Urgent Archives: Enacting Liberatory Memory Work (Routledge Press, 2021) and Archiving the Unspeakable: Silence, Memory and the Photographic Record in Cambodia (University of Wisconsin Press, 2014), as well as more than 50 peer-reviewed articles.
Accommodation requests related to a disability should be made by November 7, 2023 to the Simpson Center, 206-685-5260, scevents@uw.edu.