Support + Funding
Project Toolkit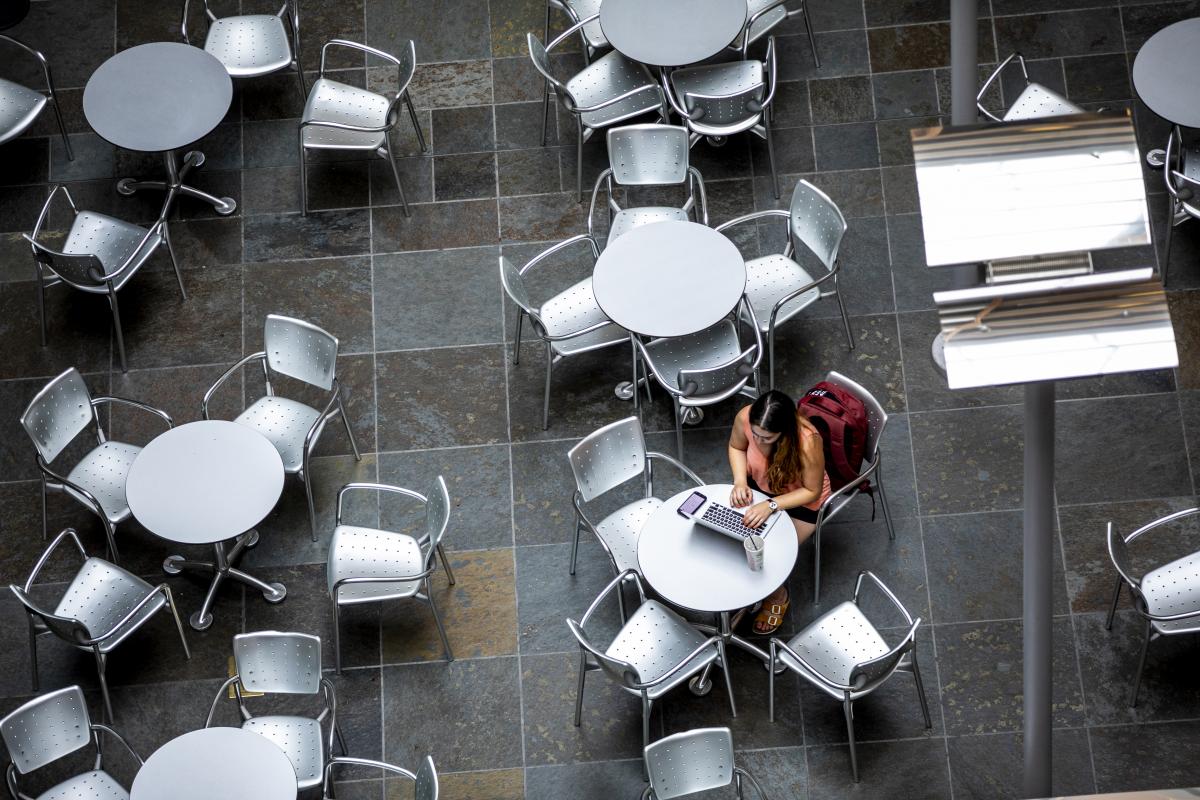 Resources and information for Simpson Center-funded project organizers.
*If you are a Graduate Research Cluster Lead, please email Rachel Arteaga (rarteaga@uw.edu) for the full GRC Toolkit guidelines before using the links below.
Graduate Student Resources
COVID-19 Precautions
As we re-open to events, The Simpson Center for the Humanities will be following the University of Washington requirements for in-person events. Visitors to the Simpson Center must follow UW COVID Prevention Guidelines.
If you have concerns about hosting an event in-person, please contact Program & Events Manager Caitlin Palo to discuss what might be possible in a remote setting. Above all, we want to support events that further vibrant and engaging research and conversation, in whatever form is most feasible.
Event Planning & Publicity Links
Submit an Event to the Calendar
Office of Special Programs (for Alcohol Events)
Food Permit and Food Service Options
In-Person / Hybrid / Remote
We offer here a list of event types to consider for in-person, hybrid (partly in person/partly online), and fully remote events. We hope these options help you think through the most effective mode for your event.
FULLY IN-PERSON
In-Person
In-person events are good options when in-person mingling and networking are a priority, for collaborative projects where all people are in the same location, and for events where multiple, simultaneous discussions are desired. This is a 'traditional' academic event, with speakers and audience gathered together in person. There may be digital elements (e.g. an online registration system, listserve discussion before or after, papers circulated in advance or subsequently, etc).
HYBRID OPTIONS
Limited-hybrid
Synchronous, Closed Audience, various options for audience participation.
A good option for increasing accessibility of all kinds (ability, distance, cost, environmental). Event occurs live, in-person, with a limited audience viewing via Zoom. Only people who pre-register and indicate hybrid preference will be given viewing access. Video, audio, and text-based options are available for the audience to participate in Q&A sessions. As this is live, it can be recorded or not recorded. See below for recording and distribution options. As an example of a limited-hybrid option, read De-Carbonizing Academic Conferencing and see the schedule for Ecology & Religion in 19th C. Studies.
Broadcast-hybrid
Synchronous, Open Audience, Audience is 'view-only'
Public scholarship, events with a wide audience inside and outside the academy, and events with an audience spanning international states and time zones are well-suited for Broadcast-hybrid. Event occurs live, in-person, and is also broadcast via a livestream on YouTube (preferred) or Facebook (optional); anyone on the internet can view the event as it is happening. Interactions can include "liking" or leaving a comment, but not directly engaging with the in-person group. As this is live, it can be recorded or unrecorded. See below on recording distribution options.
Asynchronous-hybrid
Asynchronous, Open or Closed Audience, various participant engagement options
Ongoing collaboration, multi-day events with significant learning components, and projects working to build an archive of materials can often make good use of Asynchronous-hybrid models. Portions of the event are circulated in advance (e.g. pre-recorded lightning talks, paper drafts, etc.) with discussion in person. As this is partly live and partly asynchronous, it requires recording. See below on recording distribution options.
FULLY REMOTE
Remote "Meeting": 
Synchronous, Closed Audience, "Face-to-Face"
Colloquia, Seminars, and small Symposia all work well in a fully remote 'meeting' style, which is especially for international events, and for ongoing collaboration across institutions, states, or continents. All events are held live via Zoom or another meeting platform. Participants must register and be approved to participate. Functional up to ~50 people, but ideal for 5-25 participants
Webinar, Registration required
Synchronous, Closed Audience, Audience is 'view only'
Webinars are ideal for keynote lectures, Zoom performance arts, and events that are intended to be recorded and published to YouTube. The Webinar format allows a large audience to view and listen to speakers in real-time.  Only registered attendees can view content. Audience members can ask questions via chat, monitored Q&A, and/or selectively activated audio only (no video). Available for up to 100 participants. Watch the "Comparative Humanitarianism in Egypt & the Himalayas" as an example:
Broadcast Livestream: open audience
Synchronous, Open Audience, Audience is 'view only'
Broadcasting an event is a particularly good choice for public scholarship keynotes, and for events of interest to a wide audience across sectors and geographies. The Webinar format (described above in (6)) is additionally streamed live on YouTube. Anyone on the internet can view it. Audience number is unlimited. Registration optional. Audience members can ask questions via external Q&A app, e.g. slido. Watch the "New Book Conversation with Jack Halberstam" event as an example. 
Other Remote Options
Synchronous events spaces such as "Gather" might offer an interesting and useful space for expanded, interconnected academic and public facing scholarship. As tools and platforms emerge, Simpson Center staff will review and test their capabilities and will consider them for our events.
Recording Your Events
Recording Options
The Simpson Center is able to support recording for some events.  However, because there are often hidden associated costs to post and to make videos fully accessible, we ask that you discuss recording and dissemination plans with the Simpson Center in advance. 
Note that permission must be given in writing by all speakers.
Permissions
Required:

All featured speakers must consent in writing to being recorded and to the mode of circulation of the recording. See the 

recording options

 &

speaker permission form PDF below

Required:

The audience must be informed that the event is being recorded and provided a way to opt out of any public recordings being posted.

We recommend against recording Q&A in order to make the permissions process more manageable, respect privacy, and foster a free flowing live conversation. Keeping Q&A out of the recording will also reduce post-production costs.
Captioning Policies
Captioning 
Captioning serves many purposes: it makes event recordings accessible to the d/Deaf and Hard of Hearing, increases legibility for non-native English speakers and viewers, and improves Search Engine Optimization results. Captioning is required for all recordings posted on all platforms affiliated with the UW, including the Simpson Center's YouTube channel.  Videos that rely on visual information must also include audio description.  
The following guidance was developed by the Simpson Center, to bring our recordings into alignment with UW's Disability Access and Accommodations requirements. We benefited from consultation with Disabilities, Opportunities, Internetworking, and Technology (Do-It). 
Captioning options
Apply to the Simpson Center or other department for funding to support captioning. Applicants for project funding should include a budget line in proposals for project components  that anticipate video recordings as  vitally important.  We recognize that some opportunities may arise organically: if you are organizing a Simpson Center supported event that you'd like to record, please consult with our Communications Manager as soon as possible.
Best Practice:

For captioning and audio description,

3PlayMedia

services are available to UW students, faculty, and departments at a reduced rate.  Standard UW base rate through 3PlayMedia for captioning is $1.95/minute.

Alternate:

Manually edit YouTube auto-transcripts. The time commitment varies significantly depending on a number of factors. Read more about accessible captioning standards and see the guide to adding automatic captions and editing captions on YouTube. If you plan to pay someone to do this (e.g. an hourly employee), please contact Caitlin Palo for information about setting up appropriate payment plans.

Stop-gap:

Apply to Do-It for stop-gap funds.

Applications can be submitted at the 

Captioning Service Catalyst Survey.
Audio Description
If you are recording an event, please plan to make your recording accessible to the visually impaired and to non-visual learners.  If the content requires visual information to understand, please plan to budget for audio description services, or ask your guest lecturers to give brief descriptions of the images they include in their presentations. How can you tell if you should seek audio description? Listen to the event without viewing the visuals and ask yourself, "Could this content be equally legible as a podcast, with no visuals at all?"  If not, your video recording will need audio descriptions in addition to captions. Here are a few examples of audio descriptions. Standard UW base rate through 3PlayMedia for audio description ranges from $7.50-$11.00/minute.
Travel Information
Traveling to Campus
For speakers whose travel is supported by the Simpson Center: Please refer to your invitation letter for information about how to make arrangements. We can either book your flight and reserve hotel accommodations or advise you on reimbursable options.
See the UW Campus Map
Simpson Center Location and General Accessibility Information
The Simpson Center is located on the 2nd floor of the Communications Building (CMU). (Map location of CMU; additional information about the Simpson Center spaces). The Communications Building has an elevator that serves all floors. Accessible M and W bathrooms are located on the Ground and 2nd floors.  Disability parking is available next to the building in lot N22 - pay for a permit at a parking gate house. More information about parking.
More information about UW accessibility is available at the Disability Accessibility and Accommodations Website. Program and Events Manager Caitlin Palo is available to help connect faculty and guests to relevant accessibility support services.
General Travel Information
By Air: Sea-Tac International Airport serves Seattle and is about 30 minutes from campus by car (during heavy traffic, this may take up to an hour), and about 1 hour via Link light rail. 
By Link light rail: The UDistrict station, opening on October 2, 2021, is a short walk from the Graduate Hotel (2 minutes) and the Marriott Residence Inn (3 minutes).  Both the U-District stop and the UW Station are a 15 minute walk from The Simpson Center. The light rail includes stops in Capitol Hill and Downtown - neighborhoods with many restaurant and entertainment venues.
By bus: More than 60 bus routes serve the University District, including many with stops right on campus.
By Car: Driving directions to the Central Plaza Garage gatehouse
From Interstate 5 (I-5), northbound or southbound
Note: Do not use the express lanes.
Take exit 169 (NE 45th St) toward 45th St.
Take a right turn from I-5 N or a left turn from I-5 S to travel east on NE 45th St. for about half a mile.
Turn right on 15th Ave. NE and continue for several blocks to NE 41st St.
Central Plaza Garage is on the left (east) side of 15th Ave NE.
From the east side of Lake Washington via SR 520 (toll bridge)
Take SR 520 westbound toward Seattle.
Take the Montlake Blvd. NE exit, then turn right (north) onto Montlake Blvd. to cross the Montlake Bridge.
Just past the bridge, turn left on Pacific Ave., and continue west for several blocks. You will pass the UW Medical Center and Health Sciences complex on your left.
Turn right onto 15th Ave. NE and continue north about three blocks to NE 41st St.
Central Plaza Garage is on the right (east) side of 15th Ave NE.
Parking on campus
If you drive, we recommend getting to campus at least 30 minutes before your scheduled visit to allow time to park and find your way to your destination. When you arrive, visit the Central Plaza Garage gatehouse to purchase a permit. The Central Plaza Garage gatehouse can be found on 15th Ave NE at NE 41st Street (see map). The Simpson Center can reimburse guest speakers (non-UW) for parking costs. Please save your receipt and submit it for reimbursement at this link.
Alternately, you may use the self serve parking map to find parking and pay by phone.
Please note: Not all gatehouses are open at this time. The Central Plaza Garage gatehouse is open 6 a.m. – 9 p.m. Monday thru Friday.
Reimbursement
To request reimbursement, the GRC Lead may submit receipts through this form:
Please contact scfiscal@uw.edu with any questions about eligible reimbursements and procedures.