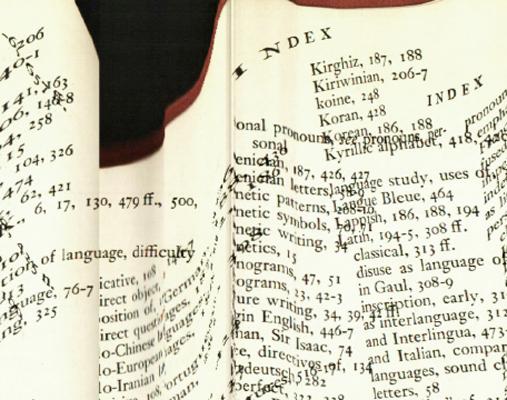 Affect & Audience in the Digital Age: Translational Poetics
Primary Contact(s)
Gregory Laynor (English and Interdisciplinary Arts & Sciences, UW Bothell)
Symposium: January 29, 2016
Affect & Audience in the Digital Age: Translational Poetics is a one-day symposium investigating contemporary scholarly, aesthetic, and activist projects that engage the processes and thematics of translation. The symposium explores translational crossings that move from analog to digital, from notation to embodiment, and from one interface to another. Building upon our collaborative research cluster's previous conversations about the rhetorical power and affective charge carried by digital methodologies in contemporary art and literature, this event gathers scholars and practitioners whose work challenges commonplace notions of medium specificity.
We seek to investigate, in Adorno's terms, how digital ­age artworks "go over into their other, find continuance in it." By considering digitality through the lens of translation and translation through the lens of digitality, our symposium aims to uncover and theorize emergent practices that go over into and find continuance in their movement across different media. We will look at artistic, archival, and activist projects that move from the digital to the analog, from embodied performance to notation, and from one interface to another. Our aim is to use the thematics of translation to better understand the affects and effects of digitally-mediated art and literature.
Participants include:
Jordan Abel (Doctoral Candidate, Simon Fraser University) is a Nisga'a writer residing in Vancouver. His research focuses on digital humanities and indigenous poetics. A conceptual writer and artist, Abel engages with the representation of indigenous peoples in anthropology and popular culture. He is the author of Injun (Talonbooks 2016); Un/inhabited (Project Space Press and Talonbooks, 2015); and The Place of Scraps (Talonbooks, 2013), a finalist for the Gerald Lampert Memorial Award and the winner of the Dorothy Livesay Poetry Prize. His recent books mine Project Gutenberg's digital collection of Western pulp novels for the language of colonization, re-orchestrating that language to interrogate notions of "the public domain."
Amy Sara Carroll (Assistant Professor of English Language & Literature, University of Michigan) is a poet and theorist of contemporary Latin@ art, literature, and performance. Her first collection of poetry, SECESSION, was released by Hyperbole Books, an imprint of San Diego State University Press, in 2012. Her second collection, FANNIE + FREDDIE/The Sentimentality of Post-9/11 Pornography, was selected by Claudia Rankine for the 2012 Poets Out Loud Prize and published by Fordham University Press in 2013. Since 2008, she has been a member of the collective Electronic Disturbance Theater 2.0/b.a.n.g. lab, co-producing the Transborder Immigrant Tool. The project was included in the 2010 California Biennial and Political Equator 3. Carroll's first critical monograph REMEX: Toward an Art History of the NAFTA Era is forthcoming from the University of Texas Press.
Lori Emerson (Associate Professor of English and Intermedia Arts, Writing & Performance, University of Colorado at Boulder) is a scholar of media poetics whose Media Archaeology Lab is the largest center in North America for the collection and study of obsolete technologies, tools, hardware, and platforms. Emerson is the author of Reading Writing Interfaces: From the Digital to the Bookbound (University of Minnesota Press, 2014) and co-editor of three collections: The Johns Hopkins Guide to Digital Media, with Marie-Laure Ryan and Benjamin Robertson (2014); Writing Surfaces: The Selected Fiction of John Riddell, with Derek Beaulieu (Wilfred Laurier University Press, 2013); and The Alphabet Game: a bpNichol Reader, with Darren Wershler (Coach House Books, 2007).
Kara Keeling (Associate Professor of Critical Studies and American Studies & Ethnicity, University of Southern California) is the author of The Witch's Flight: The Cinematic, the Black Femme, and the Image of Common Sense, which explores the role of cinematic images in the construction and maintenance of hegemonic conceptions of the world and interrogates the complex relationships between cinematic visibility, minority politics, and the labor required to create and maintain alternative organizations of social life. Keeling's research focuses on digital media, globalization, and difference, with an emphasis on Afrofuturism, Africana media, queer and feminist media, and sound. Together with Thenmozhi Soundarajan, Keeling co-curates From Third Cinema to Media Justice: Third World Majority and the Promise of Third Cinema, an archive and work of multi-media scholarship focused on one of the first women of color media justice collectives in the United States.
Rodrigo Toscano (New York Labor Institute), Project Director for The Labor Institute, is a poet and playwright whose Collapsible Poetics Theater explores the potential for group action to enact speculative explorations of collective subjectivity. The author of seven books, Toscano has appeared in numerous anthologies, including Against Expression, Diasporic Avant Gardes, Poetic Voices without Borders, and Best American Poetry. Toscano's Spanish language poetry appears as a book, Globo-Exilio-Ejercito, and in the anthology, Malditos Latinos, Malditos Sudacas. His books have been a 2007 National Poetry Series Selection, a recipient of a 2005 New York State Fellowship in Poetry and two Fund for Poetry grants.
Stephen Voyce (Assistant Professor of English, University of Iowa), is the author of Poetic Community: Avant-Garde Activism and Cold War Culture (University of Toronto Press, 2013), the editor of a book of variations: love – zygal – art facts (Coach House Books, 2013), and the Director of the Fluxus Digital Collection, an online archive of artifacts created by members of the twentieth-century art movement. Together with Dee Morris, he co-curates the Counter Map Collection, an ongoing project exploring relations between mapmaking, aesthetics, activism, and digital media. 
Additional UW Participant: