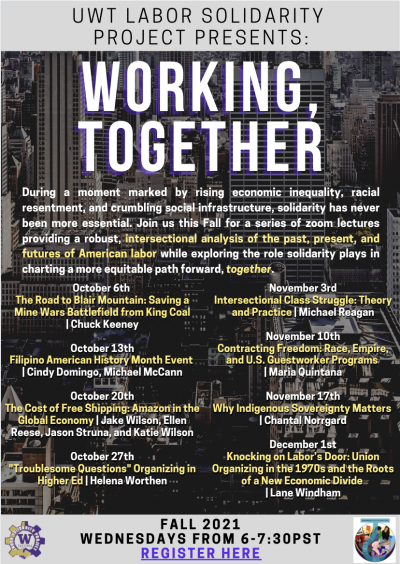 Working, Together Seminar Series: "Filipino American History Month Event," w/Cindy Domingo and Michael McCann
6:00pm
7:30pm
Streaming on-line via Zoom. Register for link.
Topic:
"Filipino American History Month Event"
Speakers: Cindy Domingo
was an active member of the Washington State Rainbow Coalition in the 1980s, and served on the boards of the Church Council of Greater Seattle, LELO, and the International Examiner. She, along with her brothers and sisters, played a key role in the Asian American and Filipino youth movements of the 1970s, and has been a community leader in the Seattle area since then.
Michael McCann
 is Gordon Hirabayashi Professor for the Advancement of Citizenship at the University of Washington. His most recent book, with George Lovell, is 
Union by Law: Filipino American Labor Activists, Rights Radicalism, and Racial Capitalist Empire
.
Register to receive Zoom Webinar Link here.
Join the UWT Labor Solidarity Project for a weekly, online seminar that will adopt an intersectional approach while exploring the recent histories of the regional, national, and global labor movements. Each meeting will feature a presentation and discussion facilitated by a leading voice in mapping the trajectory of labor activism and scholarship.
Presentations will be broadcast live each Wednesday from 6:00pm-7:30pm via Zoom beginning Wednesday, October 6. These seminars are free and open to the public.
Can't make the live performance?
View our archived presentations on the UW Tacoma Labor Solidarity Project YouTube channel playlist.
About the UW Tacoma Labor Solidarity Project:
The Labor Solidarity Project at UW Tacoma (UWT) consists of faculty and students working to highlight labor studies in the curriculum, in research, and through community outreach. The Labor Solidarity Project has organized speakers, research programs, and additional curriculum to highlight and deepen our region's understanding of its distinctive and proud labor history and to shape a future of economic justice and opportunity for all through community-engaged higher education.