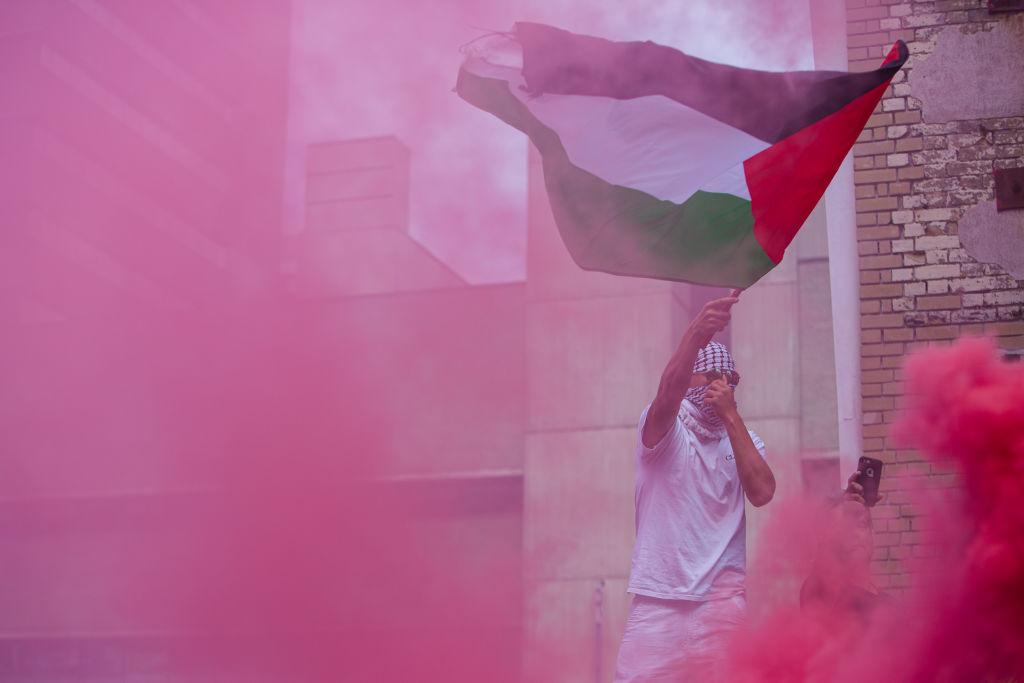 "Much of what passes for debate on the topic is no such thing. In lieu of authentic debate, we hear talking points, decontextualized sound bites, charges of bias and other kinds of ad hominem arguments. The result is something very noisy and damaging to the participants."
Why is it so difficult to have civil discussion in public about the Israel-Palestine conflict?
A group of University of Washington faculty and students is studying this question as a research cluster sponsored this year by the Simpson Center for the Humanities. In the course of organizing a recent talk by Palestinian activist Omar Barghouti, the research group received multiple heated emails, underscoring the challenge of hosting public debate on the topic.
"It has been effectively impossible, or, at any rate, extraordinarily challenging to have a public debate on the topic of Israel and Palestine," Eva Cherniavsky, Andrew R. Hilen Professor of English and a member of the research group, said in introducing Barghouti on February 26.
"Much of what passes for debate on the topic is no such thing. In lieu of authentic debate, we hear talking points, decontextualized sound bites, charges of bias and other kinds of ad hominem arguments. The result is something very noisy and damaging to the participants."
Palestine and the Public Sphere, one of seven research clusters sponsored this year by the Simpson Center, includes Jewish and Palestinian members and people of multiple faiths. It includes faculty and graduate students in English, anthropology, international studies, public health, interdisciplinary arts & sciences, and other fields. Some specialize in international relations, others in world religions, others in rhetoric.
They are united in a sense that addressing the Israel-Palestine conflict requires engaging it head-on in civil dialogue. That led them to seek funding to bring three speakers to campus this year. In January, they hosted Jon Greenberg, a Seattle Public Schools high-school teacher who met opposition for leading classroom conversations about race. On May 5, they will host Sara Roy, a research scholar at the Center for Middle Eastern Studies at Harvard University. 
Last month, they hosted Barghouti, a co-founder of the Palestinian Boycott, Divestment and Sanctions (BDS) campaign that seeks to change the Israeli government's policies toward Palestinians by isolating Israel internationally. In the group's invitation to Barghouti, they asked him not to advocate for the divestment campaign but to describe its development, historical precedents, and rhetorical strategy.
"We are interested in how the call to boycott, divestment, and sanctions was developed," they wrote. "For example, whether other strategies were debated and what other historical contexts in which a BDS approach was deployed seemed to offer a useful precedent?"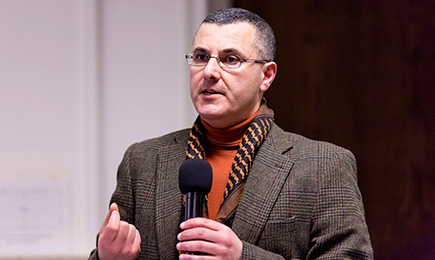 Barghouti's role as a political mobilizer led to complaints that he was an inappropriate lecturer for an academic forum.
"His propaganda is geared toward inciting hatred against Israel, and not paving the way for a peaceful two-state solution," student Jessica Schwartz, Vice President of Students Supporting Israel, wrote in the UW Daily.
Criticisms of Barghouti's visit, from both on and off campus, ranged from the sweeping—that he is anti-Semitic—to targeted—that boycotting Israeli universities threatens intellectual freedom.
Barghouti and his hosts were emphatic that one can support Jewish people and still criticize the Israeli government—in fact, comparing Israeli policy to "all Jewish people" is reductive and wrong, they said.
"When you end a regime of oppression, are you destroying the people? Of course not," Barghouti said, citing the American South and South Africa as places that have survived after ending racist policies.
He said he uses the provocative term "apartheid," not because Israel's actions are identical to South African apartheid, but because they are a part of the same "family of crimes." South Africa also offers a well-known precedent for a divestment campaign leading to sweeping social change.
"Apartheid is a system of oppression of one racial group by another that is entrenched in law, not just policy," he said.
His support for an academic boycott of Israel met criticism at the talk. Last year, UW's president and provost released a statement opposing such boycotts as a threat to academic freedom. Barghouti drew a distinction between opposing Israeli universities, not individual faculty, but it wasn't clear what that difference would mean in effect.
But the striking thing about Barghouti's talk—as opposed to the exchange of emails beforehand—was the respectful character of the event. Participants, perhaps 80 in all, sat at round tables in a ballroom in Haggett Hall, many of them meeting across religions and political differences. After Barghouti's presentation, each table held a discussion responding to two questions: What resonated with you in the lecture, and what made you uncomfortable?
Those questions prompted listeners to examine their personal reactions to the message. Participants spoke about how the struggle of Palestinians connects to the human-rights struggles of immigrants, African Americans, women, and oppressed people everywhere. They spoke of how the Israel-Palestine conflict is part of the continuing historical fallout of colonialism, World War II, and the Cold War.
When they returned to a Q-and-A session with Barghouti, there were contentious questions, but also a sense of accountability to keep the discussion peaceful. For the final question, a student asked Barghouti how he could respond in love to attacks on his character.
"I don't know if I can love someone who throws ad hominem attacks at me and calls me all kinds of names," he said. "I can respect them. I think respect is very important.
"I think it is very important to give informed responses that are rational and ethical. So you try your best to make ethical arguments and present the truth as you understand it. And to present facts I can corroborate with ample evidence."
Cherniavsky, in her introduction, argued that productive dialogue will not happen through a battle of talking points. Nor will it come through avoiding conflict, however intractable it may seem.
"I am myself a descendant of Holocaust survivors," she said. "What I learned from my family is the importance and the value of never looking away, of standing up and questioning power."