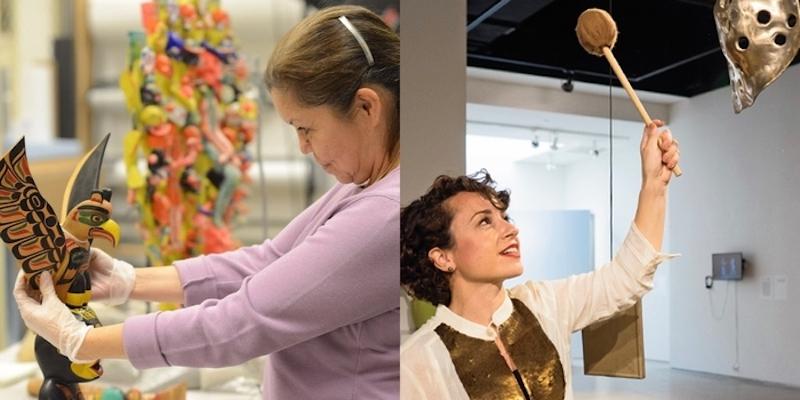 This symposium will bring together scholars and artists to explore the interactions between body and place, the production of bodily knowledge, the regulation of the body, and its agency.
Summary
The Graduate Students of Art History (GSAH), who also run the Graduate Research Cluster, "Dismantling the Canon" at the Simpson Center, are pleased to invite you to the two-day virtual symposium "Dismantling the Body: Possibilities and Limitations in Art Making" on May 18–19, 2022.
Throughout art's history, the human body has been a site of tensions, subject to regulations, overcoming or submitting to physical challenges, but also offering far-reaching opportunities for self-expression. This symposium will bring together scholars and artists to explore the interactions between body and place, the production of bodily knowledge, the regulation of the body, and its agency.
Call for Panel Chairs
Are you interested in chairing a panel as part of your participation? Panel chairs are responsible for introducing presenters and for moderating the post-presentation panel discussion. Additionally, a graduate student from Art History would serve as a co-chair to assist with logistics and offer support. To learn how to chair a panel, email your query to Ananya Sikand at asikand3@uw.edu.
Date and Location
Date: May 18-19, 2022
Location: Online (RSVP required to join on Zoom)
Organizers
Three members of GSAH and its Graduate Research Cluster, Dismantling the Canon, organized this symposium:
Giordano Conticelli, PhD student
Ananya Sikand, PhD Candidate
Or Vallah, PhD Candidate
Keynote Speakers
MAY 18: LOU-ANN NEEL
Neel is from the Mamalilikulla and Kwagiulth people of the Kwakwaka'wakw (the Kwak'wala-speaking people). She is a practicing visual artist, working in textiles, jewelry, illustration, painting, and digital design. In addition to her artistic practice, Neel serves as Curator of the Indigenous Collections and Acting Head of Indigenous Collections and Repatriation Department at the Royal BC Museum. She will speak about Indigenous ways of art-making. Learn more about Neel.
MAY 19: AMANDA CACHIA
Cachia is a curator, writer, and art historian who specializes in disability art activism across intersectional axes of difference, including gender, race, and sexuality. Cachia received her PhD in Art History, Theory & Criticism from the University of California San Diego in 2017. She is developing two book projects: the first, entitled Revision of the Senses: Disability, Art, Agency, under peer review with Duke University Press, and the second is entitled Restraining Bodies: Feminist Disability Aesthetics in North Africa and the Middle East. Her first edited volume, Curating Access: Disability Art Activism and Creative Accommodation, under contract with Routledge, will be released in December 2022, that includes over 40 international contributors. Learn more about Cachia.
Schedule
MAY 18
9:30AM
Welcome by Jamie Walker, Director, School of Art + Art History + Design
9:45AM
Introduction by a GSAH representative
10–11:45AM
Keynote by Lou-ann Neel
1–2:30PM
Panel 1: Masking, Veiling, Performing
2:45–4:15PM
Panel 2: Absent/Present
MAY 19
10AM–12PM
Introduction + Keynote by Amanda Cachia
1–3PM
Panel 3: Bodily Knowledge Part 1
3:15–4:30PM
Panel 4: Bodily Knowledge Part 2
4:30–5PM
Concluding Remarks
Disability Accommodation
To request disability accommodation, contact the UW Disability Services Office at 206-543-6450 (voice), 206-543-6452 (TTY), 206-685-7264 (fax), or dso@uw.edu, preferably at least 10 days in advance of the event.
Image Credit
Lou-ann Neel with a model pole made by her grandmother, Kwakwa̱ka̱'wakw artist Ellen Neel. Photograph by Sven Haakanson Jr.
Aaron McPeake, Gongs, 2007–10, installation view, Sweet Gongs Vibrating, curated by Amanda Cachia, San Diego Art Institute, 2016 (artwork © Aaron McPeake; photograph by Ryan Gambrell).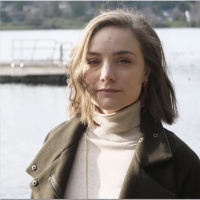 C. R. Grimmer is a poet and scholar from Southeast Michigan's Metro-Detroit area. C. R. received their Ph.D. in Literature and Cultural Studies at the University of Washington (UW) as well as their M.F.A. in Creative Writing and M.A. in English Literature at Portland State University (PSU). They are the author of The Lyme Letters, which won the Walt McDonald First Book Award from Texas Tech University Press.