shawné michaelain holloway at the Black Embodiments Studio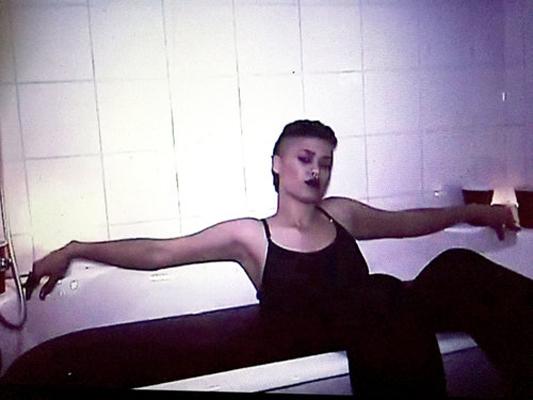 For holloway, new media doesn't require an intricate understanding of cutting edge technology, but a desire to relate to "large groups...in new ways."
On May 1, UW's Jacob Lawrence Gallery reached maximum capacity as people piled in to hear artist, teacher, and writer shawné michaelain holloway give her artist talk, "FOCUS ON THE BEHAVIOR YOU WANT." holloway's talk was part of the Black Embodiments Studio (BES)—an arts writing incubator and public lecture series rooted in expansive and dynamic investigations of blackness in contemporary art.  A collaborative effort between GWSS Assistant Professor Kemi Adeyemi and the Jacob Lawrence Gallery, BES is a year-long residency of Seattle-based arts writers, from both within and outside the UW. The year is structured around the visits of three professional black art practitioners, who each meet with BES residents and each deliver a public lecture. Alongside holloway, this year's visiting practitioners included Claire Tancons, curator for the Sharjah Biennial 2019, and Chicago-based artist Danny Giles.
The first half of holloway's talk explored how her practice—which combines video, writing, and performance—takes up and works through the idea of new media. For holloway, new media doesn't require an intricate understanding of cutting-edge technology, but a desire to relate to "large groups...in new ways." Her work is about the internet and being in/on the internet, and explores how new technologies bring us into relation with each other, thus giving rise to new intimacies, new fields, and new identities. holloway also spoke about the relationship of her work to that of other black artists operating in new media and Internet art—artists such as Keith Obadike and Hennessy Youngman, who use the web as a framework for thinking through blackness both online and in the art world.
The second half of holloway's talk was part performance, part lecture as she read a letter—what she described as a "meditation on the Internet"—from a Google doc projected onto a wall behind her. holloway—who began her artistic practice as a poet—read her stream of consciousness musings (some inspired by Donna Haraway's The Companion Species Manifesto) at breakneck speed, while the projection of her letter was interrupted with videos that were not always but often sexually explicit, paired with symphonies made of the internal sounds of computers and scrolling text. You could hear the audience hold its breath when a person appeared on screen wearing a large strap-on. As the figure spit into their hands and proceeded to stroke the dildo, text streamed across the screen: FOCUS ON THE BEHAVIOR YOU WANT.
The letter ended with a series of commands, many of which have stuck in my mind since. How many times have I reached out to others or wanted to reach out? And what had I hoped to achieve in doing so? Finally, the commands expanded in scale from the individual to the structural—how many satellites did your message have to traverse to reach out?—encouraging the audience to consider how the internet is both an intimate space as well as a technology that structures our lives and relationships to each other.
Ultimately, holloway reminded me of why I love art. Its ability to push, transgress, and surprise. holloway critically examined the internet, not just as a thing but as a place, a habitat for the strange and unruly. Likewise, the Black Embodiments Studio plays an expansive role not just at the university, but in the city. It brings challenging and exciting artists to Seattle, fosters the growth of young writers, and presents a structured way to critically engage with black art.