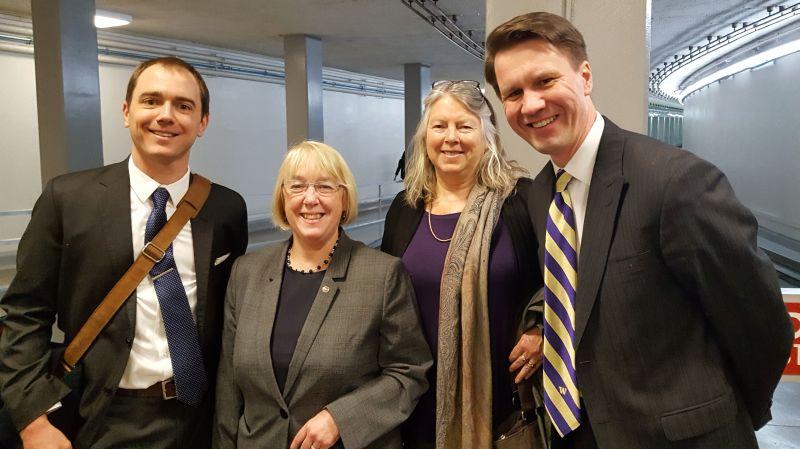 Their eyes seemed to brighten when we told stories from Yakima, Port Townsend, and the University District in Seattle.
Tell a Congressional staffer that you're visiting to talk about public support for the humanities and you see waves of both puzzlement and relief wash across their face.
The puzzlement is because the humanities are hardly the topic du jour in Washington, DC. The relief is because talking about literature, language, history, and culture can be a pleasant break from the more contentious issues swirling around the Capitol these days.
I saw this over and over during a recent trip to visit Washington state's Congressional delegation. I joined Andy Nestingen, Professor and Chair of Scandinavian Studies at the UW and a member of the Simpson Center's Executive Board, and hundreds of other university leaders, members of scholarly societies, faculty members, and students who spoke to their own states' lawmakers.
We were there to advocate for sustained funding for the National Endowment for the Humanities, whose modest budget has an outsized impact throughout the nation. We also spoke in support of the UW and higher education more broadly, along with foreign-language funding through the Department of Education Title VI and Fulbright-Hays programs. Nestingen, a former Fulbright scholar in Finland, spoke eloquently about the life-changing power of studying abroad through the program.
Without fail, Democratic and Republican staff members were gracious hosts, listening to our concerns and telling us theirs. With difficult budget fights looming—and with grassroots advocacy deeply needed—it's a small comfort to know that civil conversations still happen at the Capitol. 
We spoke about scholars and thinkers throughout American history, from Benjamin Franklin, Alexander Hamilton, and other founding fathers—whose papers the NEH has digitized and made available to the public—to filmmaker Ken Burns, whose NEH-funded documentaries have brought history to millions of American homes.
When President Lyndon Johnson signed the NEH into existence in 1965, it was part of the Great Society legislation, which includes the Voting Rights Act, the Fair Housing Act, the creation of Medicaid, Social Security expansion, K-12 and college education support, the Wilderness Act, and the National Historic Preservation Act. These efforts are not competitors for federal funding, but part of the same civic fabric, as cords interwoven.
Abstract ideals only go so far, though. For our visits, we brought examples of local NEH programs that provide tangible—and economic—benefits to each Congressional district. For Rep. Dan Newhouse of Central Washington, we brought stories of a Farm Life art exhibit in Moses Lake and a museum and historical association program in Yakima. For Rep. Cathy McMorris Rogers of Eastern Washington, we described a project for high-school teachers to learn about the history of the Grand Coulee Dam. For Rep. Derek Kilmer of the Olympic Peninsula region, our companion Lela Hilton told vivid stories of a former meth addict whose life had turned around as a student in the Clemente Course in the Humanities, a great-books program that Hilton directs from Chimacum, Washington. That student is now a city council member in Port Townsend and the director of a community art and social service center.
For Sen. Patty Murray, we spoke about the fifty-two languages taught at the UW and the eight resource centers in the Jackson School of International Studies with federal language-funding. We spoke about foreign-language training as a strategic national resource; federal Ukrainian-language training fell under threat in past years, then became a clear diplomatic need.
For Rep. Pramila Jayapal of Seattle, we spoke about the Simpson Center's Digital Humanities Summer Fellowship program, born of a challenge grant from the NEH. For each federal dollar, the Simpson Center raised three dollars elsewhere, creating a permanent program with a nearly $3 million-dollar endowment, to forge new forms of innovative scholarship. That program is a prime example of how a limited federal investment catalyzes much more from the private sector. The NEH's peer-review process creates a respected seal of approval that attracts other donors.
We might have also told Jayapal, a longtime leader on immigration issues, about UW philosopher Michael Blake's book project on Justice, Migration, and Mercy, supported by the NEH. We were glad to hear that Jayapal's staff is already familiar with Humanities Washington, an NEH-supported organization bringing lively programming to libraries, historical societies, local museums, and brew-pubs throughout Washington state.
This is not to say such programs are secure—far from it. The White House budget proposal released on March 15 would eliminate funding completely for the NEH, the National Endowment for the Arts, the Corporation for Public Broadcasting, and the Institute of Museum and Library Services. This would destroy egalitarian programs than reach beyond urban hubs to make culture and education available to all citizens. As Rep. Jerrold Nadler recently told the New York Times, "If they succeed, it will hurt rural America. New York will still have art shows. It will be rural stations that come off the air."
Since the NEH's $148 million budget forms less than 0.003 percent of the federal budget, its deficit savings are negligible.
Republicans in Congress express considerably more understanding and support for such programs than the White House, but the threat is severe.
Truth be told, our messages will not be effective on their own. Legislators and their staff members need to hear from many more constituents for these issues to rise above the din in Washington. I've written elsewhere about the books and teachers that have shaped me. In our brief visits on March 14, I could see how particular stories might leave an impression on busy legislative aides. Their eyes seemed to brighten when we told stories from Yakima, Port Townsend, and the University District in Seattle. Hilton's meth-addict-to-city-council story left an impression.
If you contact your representatives in support of the NEH and the programs that you care about—and I hope you will—it's these personal stories, including yours, that can make clear the power of humanities education in the world.
The National Alliances for the Humanities has an action center that makes it easy to call or email your representatives. Humanities Washington has another helpful page with steps you can take. The Simpson Center is also happy to talk if you have questions or ideas about advocating for the humanities during difficult times.
Related