Urbanism without Guarantees: The Everyday Life of a Gentrifying West Side Neighborhood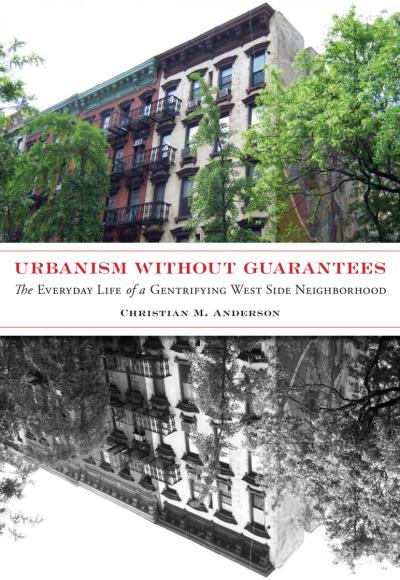 Urbanism without Guarantees: The Everyday Life of a Gentrifying West Side Neighborhood
Vigilante action. Renegades. Human intrigue and the future at stake in New York City. In Urbanism without Guarantees (Minnesota, 2020), Christian M. Anderson offers a new perspective on urban dynamics and urban structural inequality based on an intimate ethnography of on-the-ground gentrification.
The book is centered on ethnographic work undertaken on a single street in Clinton/Hell's Kitchen in New York City—once a site of disinvestment, but now rapidly gentrifying. Anderson examines the everyday strategies of residents to preserve the quality of life of their neighborhood and to define and maintain their values of urban living—from picking up litter and reporting minor concerns on the 311 hotline to hiring a private security firm to monitor the local public park. Anderson demonstrates how processes such as investment and gentrification are constructed out of the collective actions of ordinary people, and challenges prevalent understandings of how place-based civic actions connect with dominant forms of political economy and repressive governance in urban space.
Examining how residents are pulled into these systems of gentrification, Anderson proposes new ways to think and act critically and organize for transformation of a place—in actions that local residents can start to do wherever they are.
Read more on the publisher's website.