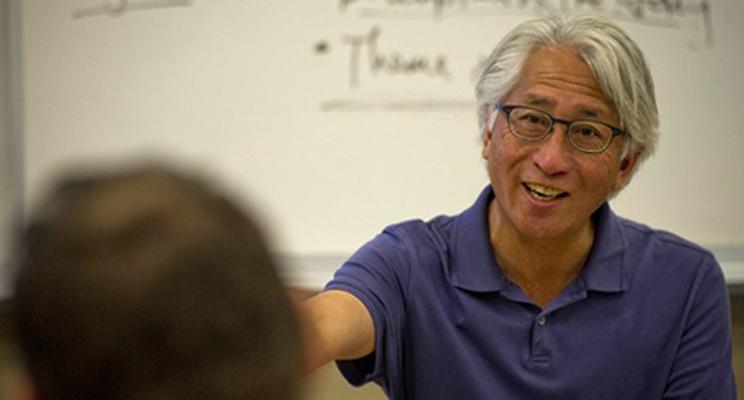 "Participating in the program has made me more mindful of how we are continuously engaged in a type of humanities outreach in our classrooms and in interactions with colleagues"
Image: Shawn Wong, courtesy of The Red Badge Project.
The Simpson Center congratulates Lance Rhoades and Shawn Wong, who are among those selected for the 2015-16 Humanities Washington Speakers Bureau! Rhoades, who has served as an instructor at the UW in American Indian Studies, Cinema Studies, and Comparative History of Ideas, will give presentations on Mary Shelley's Frankenstein, and Wong (English) will offer talks on teaching soldiers how to tell their stories through writing.
The Speakers Bureau is one of Humanities Washington's oldest and most popular programs in which cultural experts provide high-quality public presentations across Washington State. Speakers are selected based on their expertise and ability to inspire discussion with audiences of all ages and backgrounds. Their talks take place across Washington in libraries, schools, museums and historical societies, retirement homes, community centers, and civic organizations.
"As the state's flagship nonprofit for the public humanities, we bring people together to learn more about our unique past experiences, encourage community dialogue, and nurture relationships that enable us to move toward a more prosperous future," says Julie Ziegler, Humanities Washington's executive director. She understands scholars to be a critical part of this work and believes that the public and institutions of higher learning mutually benefit when the two are connected.
Certificate in Public Scholarship co-director Bruce Burgett (Interdisciplinary Arts & Sciences, UW Bothell), who also serves on the Humanities Washington Board of Trustees, sees many reasons for UW scholars to participate in public programming. "One of the most overlooked is that it gives scholars a chance to learn from diverse audiences across the state," he says. "Where the UW is largely local and national or international in its focus, state humanities councils need to serve every county in the state. As a result, Humanities Washington has a statewide network that is challenging for any university to replicate, just as universities have resources that state councils can't match." 
Burgett believes that the relationship can be a highly symbiotic one, for the individual scholar as well as the university, though he sees it as one that is too seldom cultivated. "The impact of the programming, beyond the immediate benefits of any given presentation, is that it builds a geographically-dispersed network of scholarly activity where the academic and public humanities intersect," he says.
Both Rhoades and Wong serve on the current Speakers Bureau roster, as does Anu Taranath (English). She and Wong recently talked with the Simpson Center about the ways in which they have benefited from their Speakers Bureau experiences.
For Wong, who teaches creative writing and Asian American literature at the UW, the Speakers Bureau is an important vehicle for providing a place for public scholarship and engaging Washington State citizens in a discussion about the humanities.
"I like visiting some of the more rural communities and small towns and driving through all the different landscapes in the state," he says. "As a novelist, I'm a storyteller, so I always come back to the classroom with new stories about the people I meet out on the road and the places I visit." 
This past year, Wong's presentations have centered on creativity and the writing process. For the upcoming series, he will discuss his experiences with the Red Badge Project, a program through which he has been teaching veterans at Joint Base Lewis-McChord how to construct stories of their experiences and traumas through writing. Wong hopes to invite a discussion about how communities and soldiers can learn to understand the stories of veterans in a broader sense.
Taranath, whose research centers on multi-ethnic literatures, postcolonial theory, and transnational feminist and cultural studies, also values the connections between the Speakers Bureau and her scholarly work. "Participating in the program has made me more mindful of how we are continuously engaged in a type of humanities outreach in our classrooms and in interactions with colleagues," she says. Her Speakers Bureau presentations have focused on the power of multicultural literature to generate empathy and action. Many of them have opened into broader public discussions of race and whiteness.
The 2015-16 Speakers Bureau roster lists those available for speaking engagements beginning January 2015. To learn more about this and other Humanities Washington programs, visit their website.