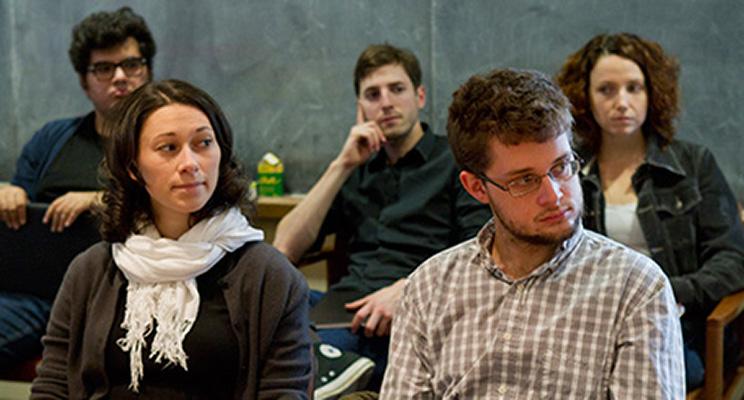 I had an opportunity to tackle scholarship which was new to me and which sparked ideas for my own future research. I also benefited immensely from co-teaching the course.
Project management for digital scholarship. Environmental humanities. Islam and forgiveness. Ancient and modern democracy. Popular music studies and digital archive development. These are just a few of the subjects explored in recent short courses offered through the Simpson Center, which are designed as a way to enhance doctoral education at the UW by extending students' scholarly experiences and offering opportunities for students to focus on topics not always included or covered in their home departments.
The Simpson Center's short courses, known as HUM (as in "humanities") courses, generally take the form of one- or two-credit microseminars for graduate students. The crossdisciplinary nature of the courses invites students to exchange ideas across disciplinary boundaries. Because they are only one or two credits (unlike most graduate-level courses, which tend to be three to five credits), Simpson Center short courses provide flexibility for students. Students have the opportunity to consider intellectual subjects, theoretical approaches, and skills-building as a supplement to—rather than in place of—their departmental course commitments.     
All HUM courses align with the Center's commitments to crossdisciplinary learning, and some intersect specifically with the Center's major initiatives in the digital humanities and public scholarship. One short course being offered this spring is "Project Management for Digital Scholarship." Facilitated by Tyler Fox (UW-IT Learning Technologies), this skills-building course introduces students to the basics of project management—from setting goals and timelines to managing budgets and identifying tools—and asks them to develop project plans for their own digital humanities research projects.
Fox says that the idea for this course emerged from conversations with UW faculty and graduate students who attended the 2013 Digital Humanities Summer Institute, of which he was one. Many participants expressed the need for project management skills development and training opportunities in their own digital projects, so he approached the Simpson Center about offering a course. "Graduate education is shifting and the professional trajectories our PhD students are moving away from traditional academic positions," he says. "Academic associations, such as the Modern Language Association and American Historical Association, are pushing for professionalization in PhD education, and this course is but one attempt at providing new professional skills for our graduate scholars." Fox hopes students will gain skills that will benefit them in research projects as well as other collaborative projects.
Short courses may be presented in conjunction with larger faculty research projects supported by the Center, such as lecture series, conferences, and symposia. During the Winter 2014 quarter, Arzoo Osanloo (Law, Societies, & Justice) taught a course to coincide with a symposium she was organizing through the Simpson Center. Titled "Islam and Forgiveness: Reflections on Justice and Conflict Resolution in Muslim Contexts," her course invited students to examine the Islamic mandate of forgiveness in its everyday applications in comparative contexts. Students were asked to attend sessions of the "Islam and Forgiveness" symposium Osanloo convened in February. To prepare them, she assigned articles by the symposium participants, so her students were equipped with a depth of knowledge and familiarity both about the topic and the speakers. According to Osanloo, this made for excellent discussions throughout the symposium.
"There were a range of students, from those in general studies who thought it was an interesting topic and—as a microseminar—low stakes enough to push them beyond the courses they usually take," she says. "There were also students who had backgrounds and study in Islam and Muslim societies, who were thinking about how these ideas might be useful in their own research." Because of the course and the symposium, Osanloo says that several of her students are now interested in recalibrating their research to engage with the ideas generated from the seminar, and at least one of them is in the process of applying for an MA to work on a project exploring forgiveness in Muslim contexts.
Additionally, HUM courses may also be designed around the visit of an invited speaker or scholar-in-residence at the UW. Often, microseminars are organized in conjunction with Katz Distinguished Lecturers in the Humanities as a way to frame the Katz Lecturer's visit.  Deborah Kamen (Classics) and Jean Roberts (Philosophy) co-taught a HUM course in conjunction with the week-long residency of Spring 2013 Katz lecturer Josiah Ober (Classics and Political Science, Stanford University), a leading theorist of democracy, deliberation, political dissent, and institutional design, whose research links ancient Greek history and philosophy with modern political theory and practice.  Their course, "Defining Democracy, Ancient and Modern," gave students the opportunity to engage deeply with Ober's scholarship, allowing them to have rich, productive dialogues with Ober during his visit.  
Not only was the course beneficial to students, but Kamen benefited from it as well. "I had an opportunity to tackle scholarship which was new to me and which sparked ideas for my own future research," she says. "I also benefited immensely from co-teaching the course with, and learning from, Jean Roberts, a colleague in Philosophy whom I didn't know very well beforehand and now know quite well."
Kamen cites the crossdisciplinary aspect of their short courses as special. "Unlike courses housed within individual departments, courses offered by the Simpson Center have the real potential to bring together students from a variety of disciplinary backgrounds, including, in the case of our course, students from Classics, Philosophy, French & Italian, Education, Communication, Political Science, among other departments," she says. "Conversation both in the seminar and outside of class benefited tremendously from this interdisciplinary perspective."
HUM courses are taught by UW instructors and generally meet in the Simpson Center.