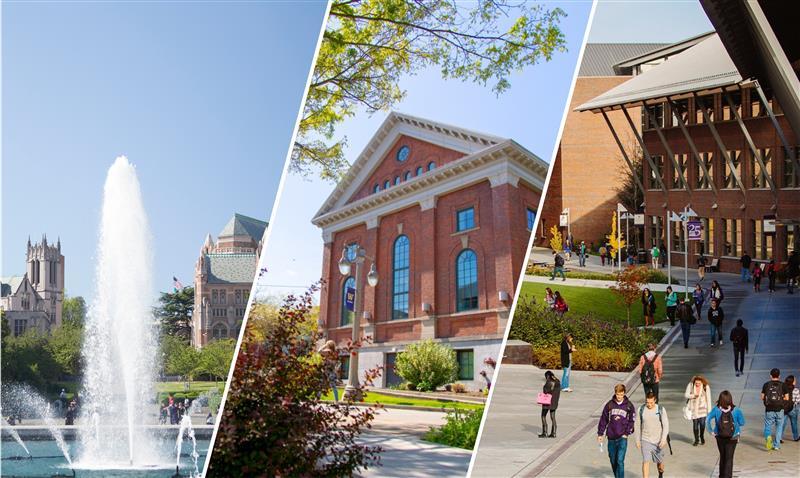 "This classification is only the beginning: it shows us that we are fulfilling our shared commitments to Washington and the world, but it also illuminates the path forward."
On January 31, the University of Washington announced that its three campuses in Seattle, Bothell and Tacoma received the Carnegie Community Engagement Classification, an elective designation that indicates institutional commitment to community engagement. 
The Simpson Center's Assistant Director Rachel Arteaga was among the thirty-seven members of the working group assembled by UW President Ana Mari Cauce and charged with conducting a rigorous self-assessment of community engagement at UW. Also among working group members was Angela Durán Real. Real, who recently received her PhD from the Department of Spanish & Portuguese, was one of only two graduate students on the committee. Real has been an integral part of the Simpson Center, including her work as a Mellon Fellow for Reaching New Publics in the Humanities and as a fellow in the Certificate in Public Scholarship. Most recently, she and collaborator Alan-Michael Weatherford (Cinema & Media Studies) were also awarded a Mellon Summer Fellowship for Public Projects in the Humanities for their project, Heritage Language Teaching and Learning Beyond Bars, a pedagogical training program meant to prepare heritage speakers at Monroe Correctional Complex to teach Spanish inside the prison.
"It is an honor for the University of Washington—across all three campuses—to be recognized with the Carnegie Foundation's Classification for Community Engagement," Arteaga says. "As a member of the working group, I was astonished by what we learned through this process. The sheer number of examples of community engaged scholarship across the Seattle campus, the depth of commitment to public scholarship in all of its forms, and the innovative research, teaching, and engagement happening every day was truly impressive. This classification is only the beginning: it shows us that we are fulfilling our shared commitments to Washington and the world, but it also illuminates the path forward. It serves as a reminder to us of a core purpose of our work—wherever we do that work—which is to actively work for the greater good, far beyond our campus."   
In many ways, the Simpson Center has been a leader—not only at UW, but also globally—in defining, supporting, and modeling public scholarship and community engagement. Since its inauguration almost twenty years ago as the Simpson Center for the Humanities, the center has embraced a public face for the humanities as one of its core missions. At the time, this was unusual—it's only relatively recently that other humanities centers and research universities have come to explicitly adopt a public mission, connecting with communities and broader publics. 
Since then, the Simpson Center has both created and supported a number of groundbreaking public-oriented programs and projects, from Reimagining the Humanities PhD and Reaching New Publics, supported by generous grants from The Andrew W. Mellon Foundation, and our public-facing Katz Distinguished Lectures in the Humanities to the creation of the Certificate in Public Scholarship and our biannual Barclay Simpson Prize for Scholarship in Public, which awards $10,000 to faculty working in the humanities or humanistic social sciences in community-engaged research. 
Among those Simpson Center projects and programs highlighted in the Carnegie Foundation Community Engagement application was the incredible work of Professor Gillian Harkins (English), who was recently awarded the Barclay Simpson Prize for more than a decade of prison education work.