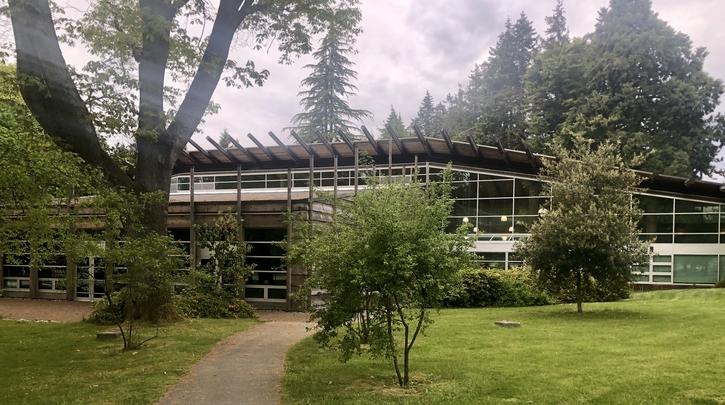 "Attending the HASTAC 2019 conference provided the opportunity to explore methods for incorporating decolonial concepts in teaching and encouraged me to reflect on ways technology can be used to both perpetuate colonial thinking and action, as well as to provide platforms for decolonization."
Last month, the Simpson Center sent a handful of Indigenous doctoral candidates from the UW to the University of British Columbia for the 2019 HASTAC (Humanities, Arts, Science, and Technology Alliance and Collaboratory) Conference, the theme of which was "Decolonizing Technologies, Reprogramming Education." The conference focused on centering indigenous peoples and knowledges in order to think about how to effectively use technology to decolonize research and teaching.
Below, three scholars share some of the highlights from the four-day gathering, which included a vibrant roundtable discussion on supporting doctoral education in the field of American Indian and Indigenous Studies that featured a number of UW scholars, as well as a rousing plenary lecture from UW alum and ASU Professor Marisa Elena Duarte (Pascua Yaqui/Chicana) on how to reconfigure the human being and the expression of our humanity under the conditions of imperial technocracy.
Gabriel de los Angeles (Snoqualmie; Education):
The talk on "Rhizomatic Learning: Decolonizing the Classroom" prompted reflection on what effects of rhizomatic learning are to be generated in the community. If practices in the classroom are to be broadened to include epistemological ways of being, knowing, and doing outside of school, what shifts in community practices are to be created by rhizomatic learning?
The decolonizing perspectives for architectural education was the most edgy and fire-branded panel of the five I attended. Declaring outright that "architectural design is colonization" was a strong, correct, and important distinction. After all, the entire field is dedicated to issues of terraforming and transforming life on the land. If that's not colonization, I don't know what is—especially in light of the fact that, since its inception, architectural design has totally disregarded indigenous ways of being with the very land it has sought to reshape.
Unfortunately, the talk on "Decolonizing Australian Indigenous Studies at the University of Melbourne" was far too mired in Western scientific epistemologies, especially in the panel's designation of ages 18-25 as a developmental stage. This assertion problematically situates legal adults in a social status of being in between adultness and childhood and, therefore, perpetuates the dismissal, disregard, and gatekeeping of thoughts, practices, and actions on the part of young adults. Frankly, I find this move inappropriate within the realm of "decolonization."
However, both of the computing-related talks I attended, "Promoting Cultural and Gender Diversity in a Computing Course" and "Move Slow and Fix Things: Teaching Computer Science Majors to Decode and Decolonize Tech" were great. Both were filled with useful tools. While the former discussed how to use Clickers and Dotstorming for creating accessible and diverse history, the latter  challenged the audience not only to ask of certain coding and design technologies, "does this work?" but also "should this exist?"
Lisa Dirks (Unangax; Information School):
Attending the HASTAC 2019 conference provided the opportunity to explore methods for incorporating decolonial concepts in teaching and encouraged me to reflect on ways technology can be used to both perpetuate colonial thinking and action, as well as to provide platforms for decolonization.
After being immersed in various perspectives on decolonizing technology and pedagogy, I found Leanne Betasamosake Simpson's closing plenary talk particularly impactful. Simpson shared excerpts and reflective commentary from a short story included in her collection, This Accident of Being Lost, which emphasized the way many Indigenous people maintain connections to cultural and spiritual practices despite barriers caused by colonization. The illustrative story was about harvesting maple sap from trees on traditional First Nation's Mississauga Nishnaabeg lands in Ontario which are now considered urban and owned by settlers. In her storytelling, she showed the resiliency and adaptability of Indigenous people, while providing a glimpse of the tensions between colonized land and cultural practice. Her words were later followed by a screening of an animated film created by other Indigenous filmmakers that was based on the story she shared with us.  The film was good on its own, but made extraordinary with the context Simpson provided during her talk. I walked away contemplating the many ways my community and other Indigenous communities have maintained and innovated ceremonial and cultural activity as our physical, political and social environments have transformed.
Amelia Schwartz (Cherokee; Geography):
I was able to attend several seminars that dealt directly with my research, my struggles as an academic, and my struggles with being an "Urban Native Settler" (being a Native on someone else's lands). During one panel, discussion focused on the Indigenous PhD experience. Several people voiced concerns that echoed my own, including whether it was even ethical—considering that the university is a settler institution—to get a PhD. Would a doctorate actually benefit my on-the-ground community work? There was collective agreement that in order to do our work, we needed more support to move past the constraints of the Western science PhD—which often restricts where, how, and how long we can conduct research—to one that embraces more land and community involvement. One suggestion was the creation of graduate level course credits for relationship building/volunteering with the community with which you want to do doctoral work. We also talked about the need to change the writing and publication process from an emphasis on single-authored works to more communal modes of thinking and writing. All of us agreed that it was necessary to be able to coauthor works with Nation leaders, as well as to acknowledge their efforts and theory on and in our work. There was also talk of making the writing process for the dissertation more about working alongside Nations, rather than the production of a "product" that could create harm for communities, particularly if sacred or loaded knowledge is shared with a wider audience.
Later, at a panel on mapping, I gained ideas and recommendations for readings and cartographical processes. One thing I hadn't considered was the power and purpose of marking locations with excerpted quotes about those places in order to make a map more intentional and narrative-driven, rather than just visual. There was also a discussion of photo essays as place-based pedagogies, which was an excellent connection to my plans of creating "story maps" for the Coast Salish canoe journeys that will include quotes, locations, and images alongside a traditional 1D map experience.
I was particularly moved by a panel on "Space NDNs" and those of us who, either by choice or circumstance, are not on our lands. Some of us don't want to return to traumatic situations and histories, or simply cannot. It made me think of my own Southeastern Nations, who were removed from their ancestral lands along the Trail of Tears, and how, as a result, we don't have the same connection to our lands that many of the Northwestern Tribes have. The speaker mentioned that it is possible to be both an explorer and caretaker of the lands, and hearing this was a comfort as I work and research in a home that is not my own.
Finally, Leanne Betasamosake Simpson's closing plenary was incredible. She blended poetry, art, and academic theory beautifully in order to retell a story and description of Indigenous rebellion and place-based knowledge. I feel very lucky to have gotten to go and see so many relevant and progressive talks and research, as well as meet many people from Northern Nations that I had never interacted with. I hope the success of this Indigenous, decolonizing conference inspires many more.