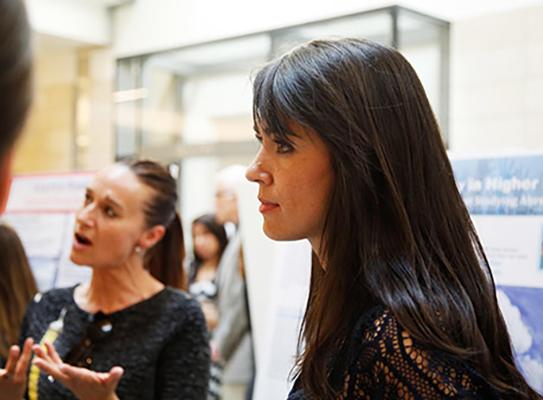 "Our department has done a great job of keeping up with a changing landscape," Moskalik says.
For Angela Durán Real, a doctoral candidate in Spanish & Portuguese Studies at the University of Washington, scholarship in the humanities takes its most dynamic form when it engages diverse publics. To her mind, "true diversity requires collaboration and mutual respect."
This statement was part of her summary reflection on her time as a Mellon Fellow for Reaching New Publics in the Humanities, a year-long program of the UW Simpson Center for the Humanities for doctoral students to shadow faculty mentors in Seattle's two-year colleges. In June 2016, fellows and mentors came together to look back on the first year of the partnership.  
Durán Real and her mentor, Asha Tran, a faculty member in Spanish at South Seattle College, discussed a survey they had conducted on attitudes toward study-abroad programs among two-year college students. They learned that many students believed international study was "not meant for them." This inspired the two to advocate for equity and accessibility as core priorities in the design of study abroad programs. In turn, Durán Real and Tran say, these programs will better reflect the diversity of students on campus.
Study abroad is a powerful example of the kind of cultural and intellectual experience that makes a difference for students as they navigate the landscape of higher education. In her remarks, Durán Real pointed out that "succeeding in class is not the same thing as flourishing on a campus."
One of the goals of Reimagining the Humanities PhD and Reaching New Publics, a Simpson Center program supported by the Andrew W. Mellon Foundation, is to call into question the dominant narrative of success in doctoral programs nationwide. This narrative prizes tenure-track positions in research institutions above all else, while placing little value on two-year colleges, where more than half of the nation's undergraduates are currently enrolled.
Mellon Fellows are actively rewriting the narrative of success in humanities doctoral education. At the UW, departments are turning toward this same goal.  
The College Classroom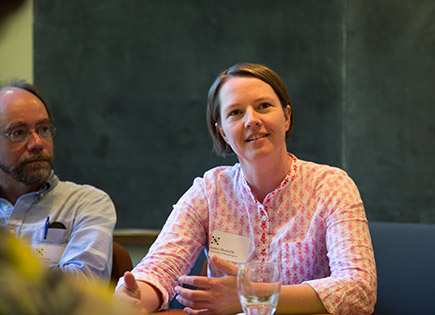 While formal partnerships between two-year colleges and doctoral programs in the humanities are relatively new, and scarce, there is one thing that they have always shared: students. At the UW, 50 percent of graduating majors in the humanities are transfer students from two-year colleges.
Janice Moskalik, a 2015-2016 Mellon Fellow for Reaching New Publics who recently completed her PhD in philosophy, explains that students often first encounter her discipline while pursuing coursework at two-year colleges. Then they transfer. "Many students at our university come from community colleges, and first take philosophy there," she says. "Because they had good experiences in those courses, they have an interest in our field before they even arrive in our classrooms."
The pivotal role played by two-year college faculty in the lives of these students has been clear to Moskalik for some time. "In our department, we teach a lot," she says. The depth of her teaching experience as a doctoral student included significant exposure to the connections between two- and four-year colleges. Because two-year colleges are teaching-intensive institutions, PhD students whose programs emphasize excellence in teaching are well-positioned to build cross-institutional partnerships with them.
This was certainly the case for Moskalik. Her two-year college faculty mentor, Bill Harms, teaches philosophy at both Seattle Central College and the University of Washington. (Harms received his PhD in Philosophy from University of California, Irvine in 1996).
The classroom is the space where, for Harms, the partnership between UW doctoral students and two-year college faculty becomes transformative. "It is so important to have opportunities to watch other people teach," he says. "We do not do this enough." Especially at first, Moskalik spent considerable time observing his classes at Seattle Central. Observation turned into discussion, then into a collaboration.   
Philosophy for Children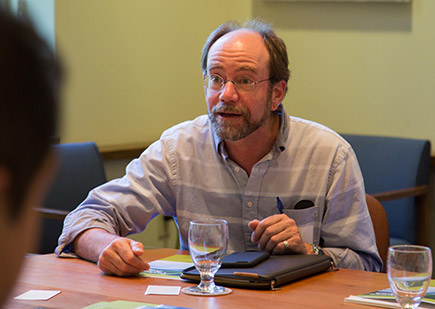 Early in the fellowship year, Moskalik and Harms discussed the range of course offerings in Philosophy at Seattle Central College. Moskalik was curious whether faculty and students at Central were involved in a major area of her own research and teaching: philosophy for children.
Moskalik has worked extensively with the UW's Center for Philosophy for Children, where university students learn to facilitate philosophy discussions with young people and then conduct free sessions in K-12 schools around Seattle.
When she learned that there was no course of this kind at Seattle Central, she saw an opportunity. With the encouragement of Bradley Lane, Vice President of Instruction at Seattle Central, Moskalik and Harms developed and launched "PHIL 299: Philosophy for Children." The five-credit course is designed to fulfill a degree requirement, and includes weekly visits to Seattle Public School K-12 classes.
Philosophy for children makes connections across educational institutions and engages diverse publics. It also demonstrates the value of philosophy "and its contributions to making and expressing meaning in our lives," says Moskalik.
A Humanities PhD for the Next Generation
When Moskalik was selected for a second fellowship through Reimagining the Humanities PhD and Reaching New Publics, an award of summer research support for the continued development of the course in Philosophy for Children for Seattle Central College, her department celebrated the news. "We look forward to seeing the success of Janice's project of engaging new publics in philosophical exploration and collaboration," a news item stated.
The UW Department of Philosophy has also made sustained and substantive efforts on behalf of diverse career outcomes for its students for many years. "Our department has done a great job of keeping up with a changing landscape," Moskalik says. For example, when students in the doctoral program expressed interest in faculty positions in two-year colleges, the department held panels with speakers from these institutions.
In the coming year, the department will turn its attention to innovative professional development opportunities for its doctoral students. With the support of a grant from the Simpson Center through its new initiative, Next Generation Humanities PhD—inspired by the recent National Endowment for the Humanities initiative of the same name—the philosophy department will bring guest speakers to campus and organize a series of "micro-immersion" experiences for its students in a variety of professional sectors.
The project, Philosophy Branches Out, seeks to "reimagine how our graduate program prepares our students for professional success," both within and beyond the academy.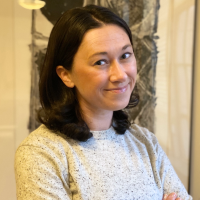 Rachel Arteaga is Associate Director of the Simpson Center. In this role, she works closely with the faculty Director and in collaboration with all members of the Simpson Center staff on the development, implementation, and assessment of academic projects, initiatives, and programs central to its mission. Rachel is also a main point of contact for institutional partners in the region, particularly for questions pertaining to the development of new models for doctoral education and professionalization across sectors in the humanities.