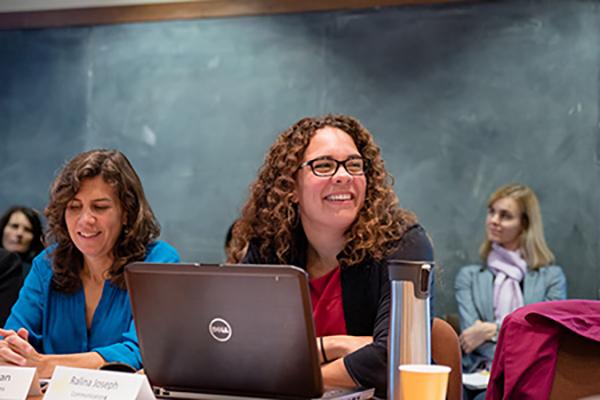 "To gain an accurate view of the higher-education landscape, UW graduate students and faculty must understand how 'non-traditional learners' have become the majority of students."
What should doctoral study in the humanities look like? What forms of knowledge and habits of mind should students develop while they are in graduate programs?
It's time to reimagine advanced training in the humanities for a new era of scholarly work, according to recent reports from professional organizations such as the Modern Language Association and the American Historical Association. They join national discussions about acknowledging diverse career trajectories beyond the tenure track. They also call for efforts to prepare graduate students to take their scholarship and teaching to broader publics, reconsidering everything from the graduate seminar to the dissertation.
Reimagining the Humanities PhD and Reaching New Publics, a new program launched in July 2015 at the Simpson Center for the Humanities at the University of Washington, establishes a model for doctoral education informed by these discussions. The program, supported by a $750,000 grant from the Andrew W. Mellon Foundation, builds on years of work at the Simpson Center to reform doctoral education. It offers three components that take graduate student professional development as a shared priority across institutions.
Connecting the Research University with the Two-Year College
The program's first component is a bridge-building initiative with two-year colleges in the Seattle District. Six UW doctoral students in the humanities are paired with faculty in their disciplines in partner two-year institutions. Fellows shadow their faculty mentors, going to class, attending department meetings, sitting in on advising sessions, and occasionally co-teaching their courses. This year's fellows represent French & Italian Studies, Spanish & Portuguese Studies, English, Philosophy, History, and Communication.
The fellowships respond to the critical role of two-year colleges, which serve nearly 50 percent of undergraduate students in the United States, according to Kathleen Woodward, Director of the Simpson Center, Lockwood Professor in the Humanities, and Professor of English.
To gain an accurate view of the higher-education landscape, UW graduate students and faculty must understand how "non-traditional learners" have become the majority of students, Woodward says. Only about 15 percent of current undergraduates are under age 25, attend four-year colleges, and live on campus, according to the National Center for Education Statistics. In addition, 50 percent of the graduating majors at the University of Washington are transfer students from two-year colleges, creating an important link between a research university and teaching institutions committed to diversity.
Bradley Lane, Dean of Humanities and Social Sciences at Seattle Central College, says the newprogram's influence will extend beyond doctoral education to reach into the undergraduate classroom, a space he describes as already deeply connected across institutions.
"Our institutions need to work together because we teach the same students—part-time students, students who delay entering college, students who already work and provide for a family," says Lane. "These students increasingly face economic and social pressures which can only be addressed by the kind of critical thinking required in humanities disciplines."
One-on-One Mentorship
Workshops throughout the program will bring together faculty and leaders from the two-year colleges, doctoral students, UW faculty, administrators, and others. The first workshop, to be held in September 2015, will host Anne McGrail of Lane Community College as a participant and guest speaker. McGrail is Professor of English at Lane and project director for "Bringing Digital Humanities to the Community College and Vice Versa," a Digital Humanities Start-Up grant from the National Endowment for the Humanities. As McGrail notes on her blog, Doing DH at the CC, such work is rare. Her grant represents the first systematic effort to "develop a national community of practice" in two-year colleges in the United States.    
AJ Burgin, a UW doctoral candidate in English and a participant in Reimagining the Humanities PhD, says the program offers a number of appealing opportunities.
"I am most excited by the prospect of one-on-one mentorship," she says. "To work with a faculty mentor from a different but equally exciting institutional perspective will be invaluable."
Lise Lalonde, another participant and a doctoral candidate in French, says the program "has the potential to create a bond between four year universities and two-year colleges that fosters the kind of true understanding and collaboration that are impossible to achieve if we remain strangers in higher education."
Bradley Lane agrees. "This partnership is an opportunity to advance community-based forms of teaching, scholarship, and service in the humanities and, truthfully, to advance what the public humanities may become in the 21st century," he says.
Public Scholarship Research and Graduate Seminars
 In its other two components, Reimagining the Humanities PhD gives support to UW faculty and graduate students to shape the future of the public humanities. It offers summer fellowships for doctoral students to pursue projects in public scholarship, a core commitment of the Simpson Center. It also provides funding for UW faculty members to develop graduate seminars that give significant attention to methods and approaches in the public humanities, with faculty members thus encouraging and giving value to ways of reaching new publics in the humanities.   
These elements grow out of Simpson Center initiatives to broaden the scope of humanities scholarship. In 2014 the center hosted a national meeting to launch the "Report of the MLA Task Force on Doctoral Study in Modern Language and Literature" [PDF]. Woodward, a member of the task force, joined the committee in recommending that "members of the scholarly community must insist on maintaining excellence in our research and teaching by recognizing the wide range of intellectual paths through which we produce new knowledge."
"We must also validate the wide range of career possibilities that doctoral students can pursue," the task force wrote.
The Simpson Center also founded the UW Certificate in Public Scholarship, a widely lauded program that equips doctoral students to conduct community-engaged research, teaching, and service.
"Doctoral education is a crucial site for instilling the values and modelling the practices of public scholarship," says Woodward. "Their studies should lead to an understanding of the complex landscape of higher education across the United States and shed light on how their teaching and scholarship can contribute to it. For many, teaching itself becomes a practice of the public humanities."
----
Photo: UW faculty Ralina Joseph (Communication) and Sonnet Retman (American Ethnic Studies) at a meeting of Women Investigating Race, Ethnicity, and Difference (WIRED).