How Successful Academics Write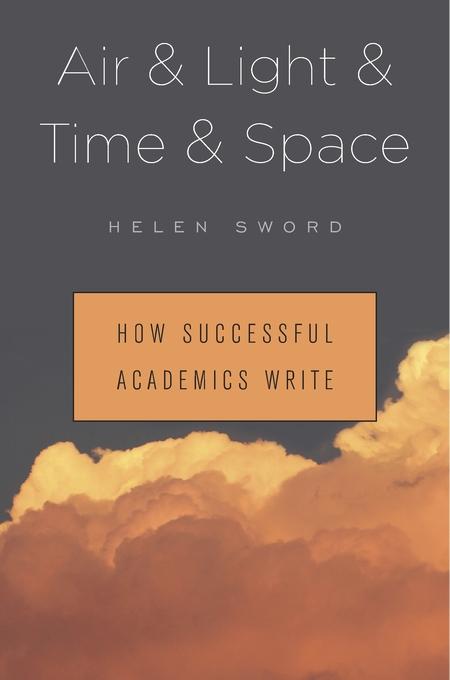 When we write for others, we engage in conversation with our readers. When we write with others, we work with colleagues toward a common product. And when we write among others, we create a community of writers.
Shortly after we closed the Simpson Center's physical offices and moved to working remotely, I packed up all my library books into wine boxes and lugged them into the trunk of my car. Parked in front of my apartment building, I put my head on my steering wheel. I'd finished all but the edits on my last dissertation chapter and the final draft of my introduction. After years of struggling to find a rhythm, my Simpson Center office had become the one space where I'd managed to develop a regular and fruitful writing routine. How was I going to develop a new one on the fly and so close to the finish line? And in the midst of a pandemic, no less? Should I even try?
[See Inger Mewburn's post on the Thesis Whisperer, "Should you quit (go part time or pause) your PhD during Covid-19?" for thinking through some of the logistical questions.]
As I unpacked my books at home, I reached for Helen Sword's Air & Light & Time & Space: How Successful Academics Write.  I first bought Sword's book when I was worried about how to finish my dissertation while also working a 9-5. I was intrigued by her critique of the common recommendation to 'write everyday'—something I knew I'd never be able to do alongside my new job, because I'd already tried and, like most, failed. Sitting among the stacks of books in what would become my new, makeshift office, I began to reread Sword's compelling take on productivity and how to make space to write.
Over the past few weeks, I return to her book every time I start to feel overwhelmed by the emails promoting productivity and the social media memes slapping back against the same.  Buffeted by these 'should I/shouldn't I' debates, and the necessary bureaucracy of figuring out possible defense timelines, Sword provides no answers to my "should I" questions. Instead, she provides much needed solace, largely because Sword orchestrates the voices of scholars who have always been writing 'apart together,' at their desks and kitchen tables all over the world. By sharing their diverse practices, Sword invites her readers to "[do] away with should and focus instead on may, a lovely old fashioned auxiliary verb that connotes possibility and permission."
The Particularities of Productivity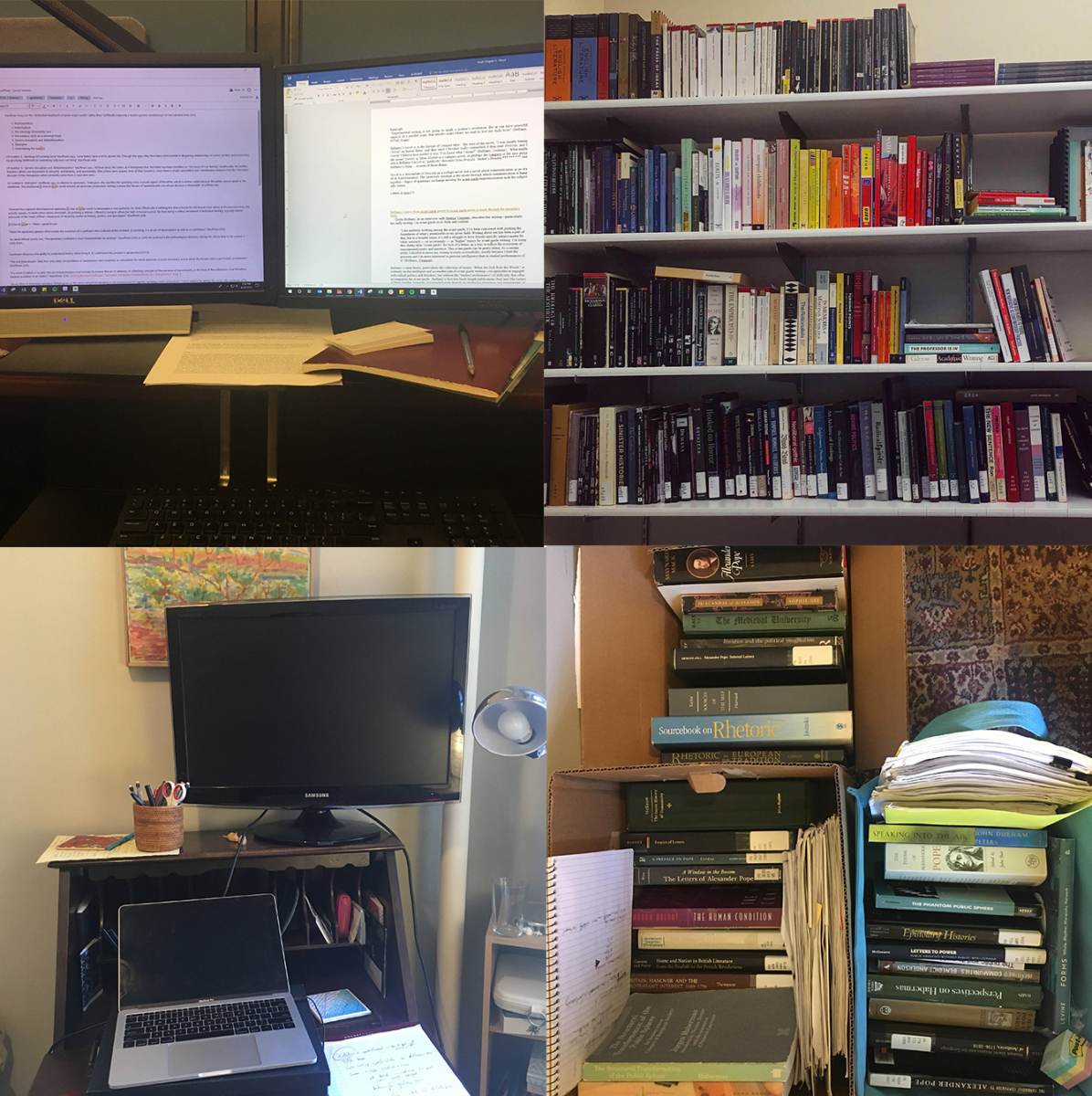 Unlike other academic success and productivity books that set out to prove a hypothesis (usually a variation on the theme that daily writing is the key to success), Sword starts with curiosity about what successful academics actually do. She found that, of the 100 academics and the ~1200 who responded to her questionnaire about their writing habits, most did not write every day. In fact, they had almost no practices that could be trotted out as a single model for success. Instead, she suggests, successful academics attend to four aspects of their writing, each of which sustains the others. She argues that successful writers cultivate and personalize not only their "Behavioral habits" of finding space and time to write, but they also attend to the craft of writing (which she calls "Artisanal"), the Social relations of their scholarly practice, and their Emotional relationship to their research.  This is the "B.A.S.E." on which the 'house' of successful writing is built.
Unfortunately, three of these elements seem to have crumbled in my precariously constructed dissertation writing life: the habits of going to the office to write, the social context of meeting with faculty, mentors, peers, and students; and the capacity to have any emotions beyond managing the conditions of the pandemic. Yet in framing these four aspects of the successful writing life, Sword's book opened a window in my panic and despair to reconsider the elements of my intellectual life that I could hold onto when everything else is so tumultuous, as well as a sense of what I could let go of. 
Redefining "Success"
Air & Light & Space & Time is not an instructional book. It is an orchestration of voices, an ethnography of writers. It is a picture of the rich diversity of writing practices at the heart of intellectual endeavors in the sciences as well as in the humanities, and an invitation to think more broadly about one's own practices in the company of other successful writers. Sword's definition of "success" in selecting interview subjects focused not only on "conventional markers of academic success" such as prolific output or high profiles—though interview excerpts from Kwame Anthony Appiah, Susan Gubar, Andrea Lunsford, and Alison Gopnik show that she has not eschewed the kind of productivity that is traditionally recognized by the tenure process either. Her study purposefully includes scholars whose first language is other than English (25% of her interlocutors), scholars who have been risktakers or pathbreakers, and scholars from underrepresented genders and cultural/ethnic backgrounds. Her ultimate definition of success includes those "who contentedly balance their work and family commitments without the agony, angst, and uncertainty that characterize the writing lives of so many of their peers. (If that's not academic success, what is?)." 
Indeed, to ease the agony, angst, and uncertainty in my dissertation writing life—all of which have only been amplified with the shelter-at-home orders and the closure of the physical library stacks—would feel like a true success. But how does one do that?  Each section of Sword's book is full of anecdotes and reflections by scholars on some aspect of their writing practice. Simply reading the voices of strangers breathes a little bit of space into my 10x10 guest room/clothes-storage/work-from-home-office. Each of them offers a slightly different way to approach writing (sometimes as a negative example, no matter how successful). One interview subject defines his research as an "escape" from the day-to-day demands. Another says, "for me it's like 'I'm doing this now,' and everything else is just gone." Reading these I think: yes, that's what I want: an escape into something that I've been invested in, a chance to put the "R0" and the news on hold for just a moment. The question now isn't "to be or not to be productive" but "how can my research sustain me?" Perhaps a chance to think about the research that has engaged me for several years can help me make it through the weekend just a little bit more successfully than an endless refresh of news headlines.
One of the features that I find most enduringly helpful in Sword's book is her invitation, at the end of each chapter to experiment with my approaches to writing. One suggestion is to "Remix: Experiment with writing at different times of the day" or even "write at a time that feels 'wrong.'" Just perhaps, she suggests, that "subversive energy" will open a new window of possibility. In another chapter, she suggests remembering and repurposing past successes:
"Recall a time and place in your life when you felt especially productive as a writer—or especially creative or intellectually engaged or articulate or passionate or even just happy. Identify the physical, emotional, and intellectual circumstances that enabled your positive experience. Can you build some of these into your…writing life?"
Apart Together
The writing life of the humanities scholar is typically caricatured as the lone 'genius in the attic.'  And while solitary writing plays its role, Sword's book reminds us that gathering together in conversation is not only one of the great pleasures of academic life but fundamentally at its core, even when we are not face-to-face:
"Even in traditionally "sole author" disciplines, they typically rely on other people--colleagues, friends, family, editors, reviewers, audiences, students--to provide them with support and feedback."  
Sword reminds us that, "When we write for others, we engage in conversation with our readers. When we write with others, we work with colleagues toward a common product. And when we write among others, we create a community of writers." Tools for writing among others have already been online. Sword gives the example of Inger Mewburn's Twitter-instigated flash sessions of "shut-up-and-write," and semi-synchronous workshops or conferences where papers are posted online and peers or specialists are invited to respond to the post. There are also resources like the National Center for Faculty Development and Diversity, an organization providing supportive programs and groups for both graduate students and faculty to write 'alone together' (UW graduate students and faculty can get access to NCFDD through the university's institutional membership here). Others, like The Professor Is In, provide networks for academic writers through programs like Unstuck, which uses a support group approach to help writers foster healthy writing dispositions and feel less isolated.
Now more than a month into stay-at-home orders, I still don't have an "ideal" writing rhythm down—there's too much to do moving events online, postponing programs, figuring out Zoom, negotiating a living space that is my work space and 'third place' (to borrow sociologist Ray Oldenberg's term).  But I have found some respite in trying to build a new routine. And once or twice, when talking with my dear friend and writing mentor, I found that I'd forgotten, at least momentarily, the daily disease tracking charts and graphs laid out before me. Instead, I've allowed my mind to be occupied with the questions of my own making that have held my enduring interest in academia.     
Have you found a way that your research or writing habits have sustained you in this new world? Or have you had a moment to re-think your writing practice?  We'd love to hear about it, since we aren't running into each other in the Simpson Center reading lounge anymore. Feel free to write us about how your research and writing is going (or not) at schcom@uw.edu.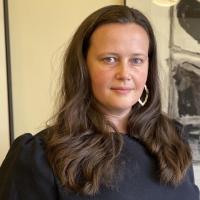 As Program and Events Manager, Caitlin Palo works with faculty to coordinate the material and logistical needs for bringing together scholars from on and off-campus. This includes consulting with faculty hosts to determine the ideal format for engaging events, including large-scale lectures in-person or on zoom, collaborative working groups, hands-on workshops, small-group conversational lunches, or other kinds of events. She also supports the logistics of room reservations, catering, flights, and hotels for funded projects and manages the co-sponsored events calendar.