Islam and Forgiveness: Reflections on Justice and Conflict Resolution in Muslim Contexts
Symposium dates: February 6-7, 2014
Supported by the Fetzer Institute and the Simpson Center for the Humanities, this symposium seeks to engage participants in examining the Islamic mandate of forgiveness in its everyday applications in comparative contexts. While scriptural texts compel Muslims to be merciful and compassionate in their actions towards others, little is known about the actual practices and effects of this mandate in their local contexts.
Although mercy, as commonly understood in Western traditions, and forgiveness are not entirely interchangeable concepts, Islamic mercy encompasses forgiveness and often takes shape through it. For Muslims, God's most important qualities come from the words Ar-Rahman and Ar-Rahim, meaning "The Most Gracious" and "The Most Merciful." These attributes comprise the opening verse of the Qur'an: "In the name of God, the Most Gracious, the Most Merciful." They are repeated at the beginning of 113 Qur'anic chapters and remind Muslims of their obligation to be just and compassionate. Despite these religious obligations, many portrayals of Islamic justice showcase vengeful retribution. As such, one might ask, then, where is the compassion that guides Muslims. How does Islamic mercy manifest in the daily lives of Muslims, those living in Muslim-majority societies and not?
This two-day symposium examines the intersection of social organization, local practice, and state institutionalization to better understand forgiveness as a situated practice by exploring 1) daily actions, 2) religio-legal sanctions, and finally, 3) post-conflict reconciliation.
A select group of scholars will come together to explore tangible expressions of mercy and compassion in diverse social and legal contexts to shed analytical light on Islamic practices of forgiveness, reconciliation, and compassion. This project contributes to a growing literature on human rights, restorative justice, and reconciliation, with an emphasis on Muslim-majority societies in two ways: it engages with intellectual debates in Muslim-majority societies on questions of humanity and forgiveness, and it considers the application of Islamic restorative justice practices among Muslims.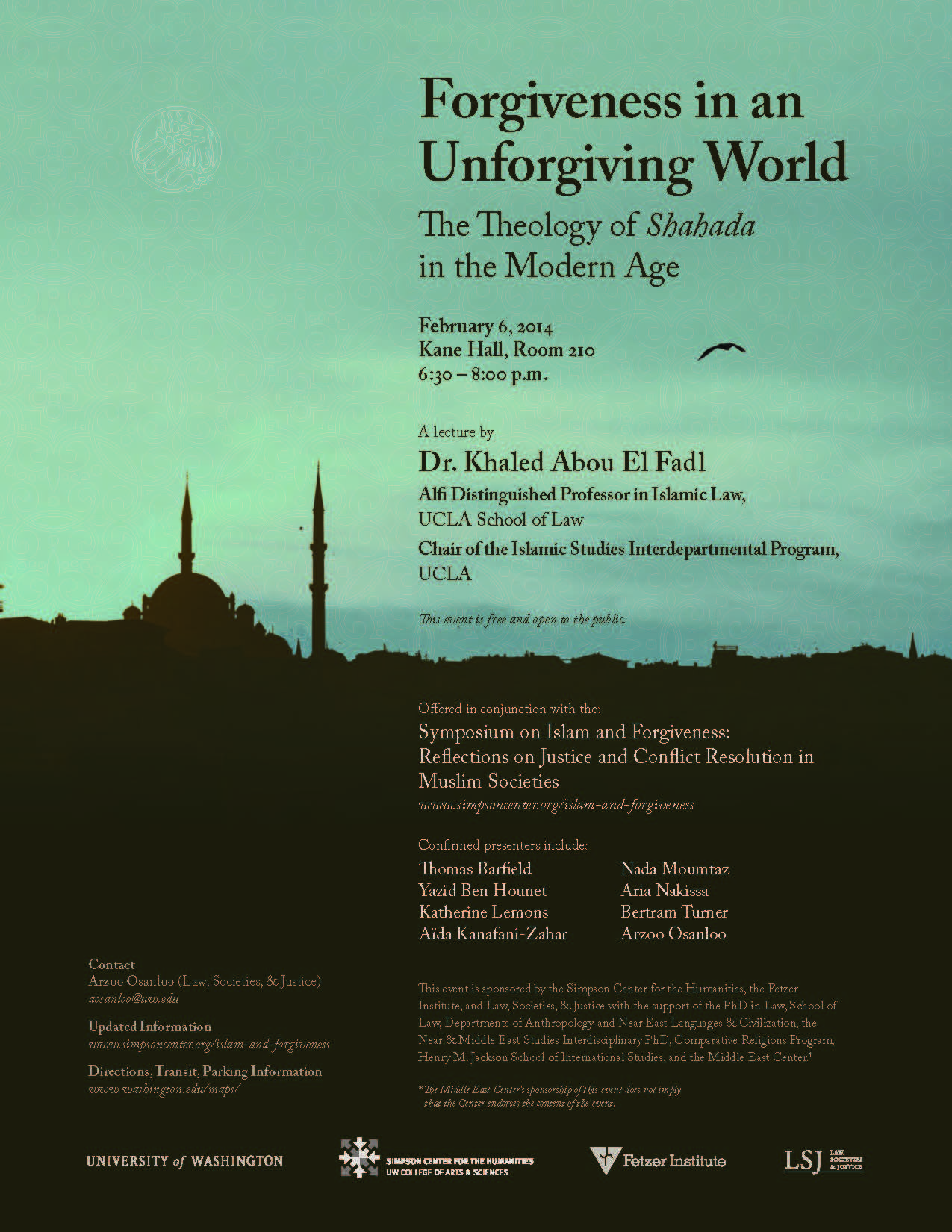 Image (above): A classic calligraphic expression of the bismillah or the verse that opens the Qur'an and every chapter with the prayer for mercy and compassion.