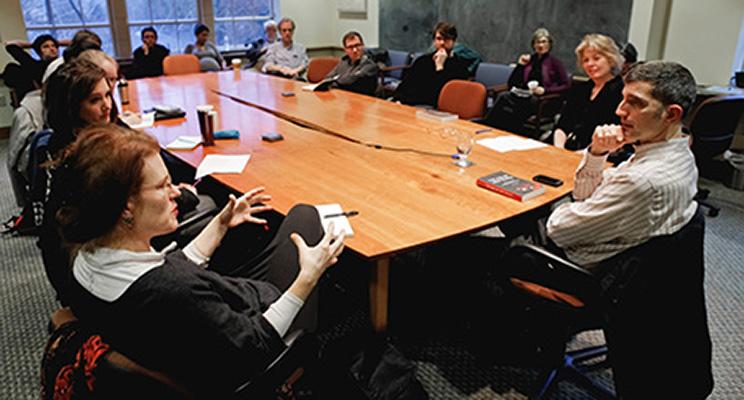 The Simpson Center congratulates UW faculty in the humanities who have recently been named the recipients of notable prizes, fellowships, and awards.
The Simpson Center congratulates UW faculty in the humanities who have recently been named the recipients of notable prizes, fellowships, and awards. They include:
Heekyoung Cho (Asian Languages & Literature) has received a National Endowment for the Humanities (NEH) Fellowship for University Teachers as well as an American Council of Learned Society (ACLS) Fellowship for 2014-15. These grants will allow her to devote herself to research for one year. She is currently working on a book project, "Translation's Forgotten History: Russian Literature, Japanese Mediation, and the Formation of Modern Korean Literature," which explores the meaning and function of translation in the formation of modern national literatures by examining Korean intellectuals' appropriation of Russian realist literature through Japanese language and culture in the process of searching for their own modern literary form in the early twentieth century. Cho is a member of the Simpson Center's Society of Scholars this year.
Sonal Khullar (Art History) was recently awarded an ACLS Charles A. Ryskamp Research Fellowship for her project, "The Art of Dislocation: Conflict and Collaboration in Contemporary Art from South Asia." Ryskamp fellowships support assistant professors and untenured associate professors in the humanities and related social sciences whose scholarly contributions have advanced their fields and who have well-designed and carefully developed plans for new research. Intended to support an academic year of research, these fellowships provide time and resources to assist recipients in shaping their projects into major pieces of scholarly work. Up to twelve are awarded annually. Khullar's project builds on research she developed as a Society of Scholars fellow in 2011-12 as well as through New Geographies in Feminist Art, a conference she co-organized with Sasha Welland (Gender, Women, & Sexuality Studies) in 2012 that examined the role of women artists, feminism, and visual representations of gender and sexuality in contemporary Asian art. 
Thomas Lockwood (English) has received The Robert Lowry Patten book award for 2013 from the journal Studies in English Literature (SEL) for the third and final volume of his edition of Henry Fielding's plays, part of the sixteen-volume edition of Fielding's works published by Oxford University Press. The award is given in alternate years for the most outstanding recent contribution to Restoration and eighteenth-century British literary studies. The judges' citation concludes: "This is a magisterial edition, and it will have a broad, deep impact on studies of theatre and performance throughout history, of Henry Fielding, of eighteenth-century literature, of popular culture, of political satire, and numerous other subjects. The entire execution is a rare model of scholarly expertise and dedication, unlikely ever to be bettered in this field, and not easily matched in the profession."
Margaret O'Mara (History) is a recipient of an ACLS Frederick Burkhardt Residential Fellowship. Her project, "Silicon Age: High Technology and the Reinvention of the United States, 1970-2000," stems from work she did as a Society of Scholars fellow at the Simpson Center in 2011-12. Burkhardt Fellowships support an academic year of residence at one of the thirteen national residential research centers participating in the program. Up to nine fellowships are awarded annually. With the opportunity to engage in an extended exchange with other scholars from a variety of fields and backgrounds, fellows are able to deepen and expand the significance of their research and its impact on the humanities and related social sciences. O'Mara will be in residence at the Center for Advanced Study in the Behavioral Sciences at Stanford University.
James Tweedie (Comparative Literature & Cinema Studies) has won the Katherine Singer Kovacs Book Award from the Society for Cinema & Media Studies for his book, The Age of New Waves: Art Cinema and the Staging of Globalization (Oxford UP, 2013). The Society gives two Kovacs awards each year for outstanding scholarship in the field. In his book, Tweedie presents an alternative vision of global modernity as a series of transnational film movements. He examines the origins of the concept of the "new wave" in 1950s France and the proliferation of new waves in world cinema over the past three decades, breaking with standard film industry narratives to articulate the key role of youth and cities in the development of new wave cinemas. Tweedie, who serves on the Simpson Center's Executive Board, gave a New Books in Print talk on The Age of New Waves in January.
Join us in congratulating these faculty members!