Student Assistants
The Simpson Center's Communications, Events, & Operations Student Assistants provide support for events and publicity, help with reception and the general duties and maintenance of the office, and provide on-site assistance at the Katz Distinguished Lectures in the Humanities series. The Center's Digital Media Student Assistant helps with event photography and the production of podcasts and videos.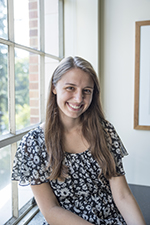 Alison Fiorenza joined the Simpson Center in 2014. She is currently pursuing a BA degree in English and communication. She hopes that the Simpson Center's focus on crossdisciplinary study will provide her insight in how best to explore and utilize her two majors.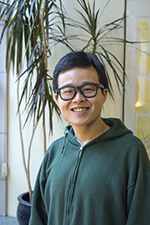 Benji Liang also joined the Simpson Center in 2014. He assists the Communications Specialist with digital media projects. A current Photomedia student, he is excited to bring his artistic vision, sensibility, and practice to the photographs and videos he creates highlighting the Center's many projects.