Mariah Moody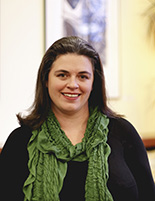 As the Simpson Center's Administrator, Mariah Moody oversees general operations, budget management, and human resources for the Center. She works with faculty members leading Center-funded projects to facilitate use of space and budgeting matters, as well as with staff on strategic planning and management of the funding cycles.
Mariah has extensive experience working in and around education. After graduating from Syracuse University with a BA in history and art history, her career started in arts education in New York City. Following her time there, Mariah continued her work at Vassar College in the Alumnae\us Association. This position led her to return to school, heading west, for a MEd from the University of Washington. Her graduate degree is in Educational Leadership and Policy with a concentration on higher education. The Simpson Center has given Mariah the opportunity to combine her interest in higher education with her appreciation for the arts and humanities.
During her time in graduate school, Mariah had the opportunity to participate and lead a program called The College Access Project (TCAP). TCAP works with families to provide information about applying and attending college through educational activities. This program combined Mariah's graduate study of educational access and higher education.
Prior to joining the Simpson Center, she worked as a pre-award specialist assisting faculty preparing large-scale grant applications in UW's Psychiatry and Neurology departments.