Caroline Hansen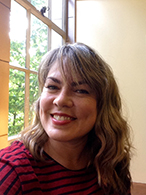 Caroline Hansen is the Simpson Center's Events & Program Manager. She manages the logistics and calendar of many of the Center's larger events providing guidance and experience in making every event a success. 
Caroline has extensive experience in event management within higher education. Over the last ten years, she was the Director of Events and Donor Relations for the UW College of Engineering and the Associate Director for Events at UW Medicine. She has also worked at University of California at San Francisco and consulted with numerous West Coast nonprofits on implementing strategic event plans and organizing effective fund- and friend-raising events.
Upon joining the Simpson Center, Caroline finally can apply her skills and experience to her first love, the humanities. She works with faculty, staff and students on designated events within the College of Arts & Sciences. Caroline holds a B.A. from Brown University in Women's Studies. She was born in Texas, schooled in New England, matured in San Francisco and now lives in Seattle with her husband, two kids, and three cats.